The Bunker, providers of ultra secure Managed Hosting, Cloud Computing, Colocation, and Outsourced IT from within Europe's most secure data centres, is pleased to announce that Mind Candy, creators of the Moshi Monsters game has selected The Bunker as its hosting partner to support its continuing growth.
Over the last 3 years, 50 million users have already signed-up to Moshi Monsters, with new users signing up at a rate of 1 per second, making Moshi Monsters the fastest-growing kids' entertainment brand in the world.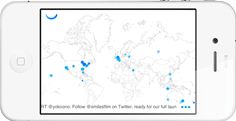 Moshi Monsters map
Mind Candy has chosen The Bunker for high density, high availability colocation space in its Nuclear Bunker Data Centre. The Bunker's unique facilities, dual site hosting capabilities plus ISO and PCI DSS certifications, gives Mind Candy and its customers reassurance that its systems and user data are safe and secure.
Ian Trayler, Network Operations Manager says, "At Mind Candy we were seeking to expand our colocation infrastructure to improve our availability & scalability as the company grows. We had dozens of requirements and after talking to many data centre providers, The Bunker was the only one that ticked all the boxes. In a year, we could easily have 100 Million users and with some new exciting projects in the pipeline, the demand on our infrastructure is growing day by day. Working with The Bunker, we know we have the capacity to grow rapidly in a secure and reliable environment"
Simon Neal, Director of Data Centre Services at The Bunker commented, "The Bunker is delighted to work with Mind Candy and to provide them a hosting solution that ensures the data security and complete resilience required for online gaming. With The Bunker's ultra secure data centres, ISO 27001 accreditation and our team of technical experts on hand 24x7, we have no difficulty fulfilling their expectations and supporting their impressive expansion."
About Mind Candy
Mind Candy is one of the world's leading developers of social multi-player games, helping kids (and big kids!) around the world play and connect. The world of Moshi Monsters has been created by Mind Candy, a company that loves developing games and new forms of interactive entertainment.
Moshi Monsters is a virtual world for children that allow users to adopt and care for their own pet monsters. Monster owners can make new friends and connect with existing friends through a wide variety of safe social networking features such as Monster blogs, Newsfeeds, pinboards and buddy lists. Users create a home for their pet monster in Monstro City, play games and make friends, and show off their monster and home to everyone else.
For more information visit www.mindcandy.com and www.moshimonsters.com
About The Bunker
The Bunker delivers Ultra Secure Managed Hosting, Cloud Computing, Colocation, and Outsourced IT from within Europe's most secure data centres.
Our data centres, which are outside the M25 yet within easy reach of London, are military-grade nuclear bunkers purpose built to house the UK's air defence systems. We run 24x7x365 - our NOC monitors systems both nationally and internationally and is staffed around the clock by system and network engineers and security staff. The Bunker is ISO 27001 and PCI DSS accredited and follows ITILv3 best practice and PRINCE2 project management standards.
Our clients are financial services organisations, technology companies, government and other regulated businesses that value a premium service built around security.
For more information visit www.thebunker.net
For all press enquiries, please contact:
Robert Hickling/Louise Stewart-Muir
Say Communications
+44 (0)20 8971 6400
bunker@saycomms.co.uk