Successful transition from web to print proves appetite for trans-media brands
The new Moshi Monsters Magazine has proved a monster hit pulling in sales of over 80,000 for issue # 1 alone – dwarfing that of competitor titles. The launch issue, which was released on February 17th 2011, sold out leading to an increased print run for subsequent issues.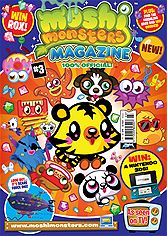 Moshi Monsters Magazine
The success of the magazine reflects the huge popularity of www.moshimonsters.com, which now has almost 40 million registered users worldwide and includes one-in-two UK kids (aged 6-12). Moshi Monsters is a web-based children's entertainment brand, which allows kids to adopt and care for a virtual pet monster, engage in a safe online community and complete fun missions and educational puzzles.
The print magazine is the latest in a line of physical Moshi products to hit shelves in the UK and marks the increasing appetite for children's entertainment brands that work across multiple platforms. Other products include toys, books, trading cards, membership cards, posters and calendars with many more in development.
"We're thrilled by the mag's success to date", said Michael Acton Smith, CEO and creator of Moshi Monsters. "We're still awaiting official figures, but it looks likely to be the largest selling monthly kids magazine in the UK".
Each monthly issue of Moshi Monsters Magazine contains 52-pages of entertaining content, including comic strips, competitions, free gifts, puzzles, top secret Moshi hints and tips, character fact files, user-generated content and unique codes that unlock exciting content within the online world.
Created and published by SkyJack Publishing, Moshi Monsters Magazine is currently on sale across all major high street retailers (RRP £2.99). Issue # 3 hits shelves today.

For further information visit www.moshimag.com
- ends -
Notes to editors:
ABOUT MIND CANDY
Mind Candy is one of the world's fastest growing social online gaming companies and the global developer, operator and publisher of Moshi Monsters. The company was founded in 2004 by Michael Acton Smith, an Internet entrepreneur who previously founded Firebox.com. For further information visit www.mindcandy.com
ABOUT MOSHI MONSTERS™
Moshi Monsters is a free-to-play, fun-filled world of adoptable pet monsters, combining adorable virtual pets with social online gameplay and engaging educational puzzles for children aged 6-12. Over 39 million monsters have been created to date and over two million new players are joining each month making Moshi Monsters one of the world's fastest growing children's sites in the world! For more information visit www.moshimonsters.com
ABOUT SKYJACK PUBLISHING
Formed in 2009, SkyJack Publishing provides print-based contract publishing services for the entertainment media industry. Clients have included Mind Candy Ltd, Cartoon Network, Topps, Egmont Magazines, 20th Century Fox, Activision, The Mirror Group, Tesco, Morrisons, and more. SkyJack also publishes Megaton, the UK's only video game magazine for 8-12 year-old children.
For further SkyJack Publishing information contact:
Matt Yeo
E: matt@skyjackpublishing.co.uk
T: +44 (0) 7801 256327
W: www.skyjackpublishing.co.uk
For further information:
Nicola Duarte
Head of PR
Mind Candy
nicola@mindcandy.com
T: +44 (0) 207 501 1926
M: +44 (0) 7810 354 103
Twitter: @nics_duarte