Moshi Monsters MouthOff available now for iPhone and iPod touch
LONDON, UK – 13 October 2010 – Mind Candy, the global developer and publisher of the popular children's online game, Moshi Monsters, today announced the launch of the Moshi Monsters MouthOff App on the App Store. Available for iPhone and iPod touch, the Moshi Monsters MouthOff App allows children to choose their favourite Moshi Monster and give themselves their very own animated Moshi mouth by holding their device up to their mouth as they speak. The app was developed by highly experienced developer ustwo.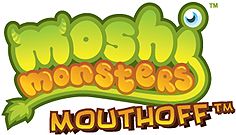 Moshi MouthOff Logo
"With the continued growth of Moshi Monsters as one of the foremost children's online destinations, the extension of the brand to the App Store was a natural fit," said Michael Acton Smith, CEO of Mind Candy. "In developing the Moshi Monsters MouthOff App, we wanted to give kids a chance to access their favourite monsters in a fun, lighthearted way while on-the-go."
With Moshi Monsters MouthOff, kids simply hold up iPhone or iPod touch in front of their mouth and pick any one of the six Moshi Monsters. As they start to speak, the microphone picks up their voice and animates the monster's mouth on the screen. The app is localised for English, French, Italian, German, Portuguese and Spanish, so children around the world can express themselves in an exciting and playful way.
The Moshi Monsters MouthOff App is available for £1.79 / $2.99 from the App Store on iPhone and iPod touch or at http://bit.ly/moshimouth
###
ABOUT MIND CANDY
Mind Candy is one of the world's fastest growing social online gaming companies and the global developer, operator and publisher of Moshi Monsters. The company was founded in 2004 by Michael Acton Smith, a UK-based entrepreneur who previously founded Firebox.com.
ABOUT MOSHI MONSTERS
Moshi Monsters is the world of adoptable monsters, combining adorable virtual pets with social online gameplay and educational puzzles for children. The puzzles test a variety of skills including basic maths, spatial awareness, logic, counting, anagrams and vocabulary. Over 28 million monsters have been created to date and over two million new players joining each month making Moshi Monsters one of the world's fastest growing children's sites with one new player joining every second! To date, hundreds of millions of educational puzzles have been played and millions of virtual items sold each day! For more information on Moshi Monsters visit www.moshimonsters.com
ABOUT USTWO
Located in London, UK and in Malmö, Sweden; ustwo™ brings the very best in digital design and innovation to a range of sectors including mobile, consumer electronics, medical and finance. ustwo™ also maintains its own portfolio of mobile properties, as well as partnering with brands, licensees and publishers to forge new revenue streams in the mobile arena.
MIND CANDY / MOSHI MONSTERS GLOBAL PR
Edward Relf
Chief Commercial Officer
Mind Candy
ed@mindcandy.com
UK PR
Jade Wilkinson
LEWIS PR
moshi@lewispr.com
0207 802 2626
AUSTRALIA PR
Gemma Maughan
LEWIS PR
gemmam@lewispr.com
+61 2 9409 3100
US PR
Megan Kellett
Bender / Helper Impact
mindcandy@bhimpact.com
310-694-3102