Mind Candy unveils global launch plans for new children's collectible craze
LONDON, UK – August 9th 2010 – Mind Candy, the global developer and publisher of the popular children's online game Moshi Monsters, which has 24 million players worldwide (www.moshimonsters.com), today announced the forthcoming launch of Moshi Bandz, a new range of collectible wristbands for kids.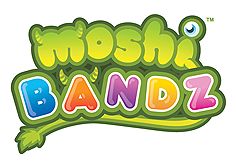 Moshi Bandz Logo
The fun and brightly-coloured wristbands take the form of popular Moshi Monsters' characters and are tipped to be one of the hottest children's crazes of the autumn. They come in varying shapes and colours, with some much rarer than others to increase their collectability. Following the huge success of the category in the US, Mind Candy is rolling out a high-profile media campaign of TV advertising, print and online marketing, as well as mass sampling as they gear up for launch in the coming weeks.
Michael Acton Smith, CEO, at Mind Candy commented: "Moshi Bandz are a great way for fans to take their favorite monsters with them wherever they go and share the characters with friends and family. This is a really exciting development for us as we bring the virtual world alive with a range of physical products."
Moshi Bandz are due to launch in October across major retailers and newsagents with Firebox.com set to launch pre-order in the coming days. They are priced at £1.49 for a pack of 10 wristbands with hundreds to collect in the first series. For more information on Moshi Bandz or retailer enquiries visit www.moshibandz.com
ABOUT MOSHI BANDZ
Moshi Bandz are fun, bright and colourful wristbands that take the form of popular Moshi Monsters' characters and include varying shapes and colours ranging in rarity from common to ultra rare. Moshi Bandz will launch in the UK in October and will be priced at £1.49 per pack of 10 wristbands. With hundreds in the series to collect, Moshi Bandz are set to become this autumn's new kids' craze! For more information visit www.moshibandz.com
ABOUT MIND CANDY
Mind Candy is one of the world's fastest growing social online gaming companies and the global developer, operator and publisher of Moshi Monsters. The company was founded in 2004 by Michael Acton Smith, a UK-based entrepreneur who previously founded Firebox.com.
ABOUT MOSHI MONSTERS
Moshi Monsters is the world of adoptable monsters, combining adorable virtual pets with social online gameplay and educational puzzles for children. The puzzles test a variety of skills including basic maths, spatial awareness, logic, counting, anagrams and vocabulary. Over 24 million monsters have been created to date and over two million new players joining each month making Moshi Monsters one of the world's fastest growing children's sites with one new player joining every second! To date, hundreds of millions of educational puzzles have been played and millions of virtual items sold each day! For more information on Moshi Monsters visit www.moshimonsters.com
MIND CANDY / MOSHI MONSTERS GLOBAL PR
Edward Relf
Chief Marketing Officer
Mind Candy
ed@mindcandy.com
UK PR
Jade Wilkinson
LEWIS PR
moshi@lewispr.com
0207 802 2626
AUSTRALIA PR
Gemma Maughan
LEWIS PR
gemmam@lewispr.com
+61 2 9409 3100
US PR
Megan Kellett
Bender / Helper Impact
mindcandy@bhimpact.com
310-694-3102