Hamburg, 16th January 2013 – The German IT security specialist gateprotect continues its growth process and reports a significant increase in turnover for the past business year. The extraordinarily positive development of the business in 2012 was enabled by a great number of new international partnerships with top distributors, a new management team as well as successful new products and services.
In 2012, gateprotect recorded a significant double-digit growth of turnover; the result of the past business year was thus the best result ever during its ten-year company history.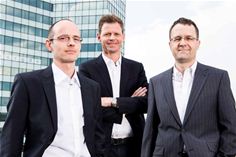 gateprotect Managing Board
Under the new management team Dr. Peter Smeets (CEO), Stephan Ziegler (CTO) and Dr. Reinhard Festag (CFO), the German IT security specialist has grown considerably and aimed its course on internationalization and innovation.
Strategic Expansion of the Company
gateprotect strategically expanded its partner and sales structure during the past months and focused it on internationalization. With the foundation of gateprotect Inc., a subsidiary in the USA based in Santa Clara, California, as well as a new office in Cape Town, the IT security specialist from Hamburg, which is already employing people in Italy, Asia and Canada, is now backed by an even broader international base.
Together with the new international distributors Comguard for the Middle East, Comztek as a distributor for Africa and Tech Titan as a partner for the Asian countries, gateprotect is now distributing its security solutions in almost all relevant market economies worldwide.
In Austria and Italy the renowned Value Added Partner Computerlinks is supporting the distribution of the gateprotect solutions, and in Germany the company is counting on the cooperation with Gallo IT, among others.
"We are extremely satisfied with the international development", Dr. Reinhard Festag, CFO of gateprotect AG, says. "Traditionally we are generating a major part of our turnover in Germany, Austria and Switzerland, but we are also growing significantly in the booming Latin American market, where altogether six Value Added Partners in 13 countries are successfully promoting the sale of our security solutions. Likewise, our distribution partners in France, Great Britain, Spain and Hungary are also reporting positive growth figures".
Dr. Peter Smeets, CEO of gateprotect AG, explains the steadily growing success of the company as follows: "Our great strength lies in our strategy of understanding the respective markets and requirements of customers as well as possible and addressing the most urgent questions of our customers from medium-sized companies, the big industry and the public sector by offering custom-made, easy-to-operate IT security solutions – worldwide".
Innovative Products and New Services
By a row of successfully introduced new products and services, gateprotect has been able to consequently underpin its claim to technological leadership also in 2012. "Fresh money from a capital increase was directly invested in software and product development", explains Stephan Ziegler, CTO of gateprotect. "During the past 12 months, we have thus been able to introduce to the market the next generation firewall Version 9.2 with Application Control, present the new hardware of the GPZ model range and establish the gateprotect security audit."
Version 9.2 with Application Control
The gateprotect next generation firewall solution of Version 9.2 embraces an enhanced feature set that, besides state-of-the-art security and network features, also includes an application control. Instead of merely filtering data on the basis of ports and protocols and blocking individual websites, the application control records the data traffic, evaluates it and analyzes each data package as well as the information delivered in it. "Combined with the usual reliable performance, security and stability, the current version of our next generation firewall offers our customers an optimal, sustainable solution for the changing framework conditions and upcoming challenges in IT security and data protection", says Stephan Ziegler, CTO of gateprotect AG.
Launch of the GPZ Model Range
The third hardware generation of the next generation firewalls GPZ 1000, GPZ 2500 and GPZ 5000 provides companies with user-friendly solutions with redundant components for maximum security together with top stability and performance. A special RAID system assures high failure safety, the flexibly designed frontend can be freely configured to fit the customer's needs thanks to exchangeable network cards, and, in addition, all models are equipped with VLAN (Virtual Local Area Network) and Application Control.
gateprotect Security Audit
The gateprotect security audit is an inspection procedure developed for the German market, in which an auditor certified by the German TÜV analyzes a multitude of technical and organizational parameters of a company's IT and puts them into a context with respect to their relevance for security. The security audit examines and documents the company's protection requirements and the compliance with statutory regulations and ordinances. With the test certificate, customers are able to document internally and externally that they are complying with a certified standard of data protection and thus prevent potential liability.
Increased Manpower
With numerous new hires, especially in the areas of research and development, gateprotect nearly doubled the number of its employees since 2011. Exciting tasks in an interesting working environment are making gateprotect attractive as an employer that has been able to win many international IT security experts. At the company's headquarters in Hamburg, there is currently an interdisciplinary team of over 80 people. Worldwide, gateprotect has more than 120 employees.
Outlook for 2013
Dr. Peter Smeets, CEO of gateprotect AG: "We are very satisfied with the development of the company and are looking to the future with great confidence. In 2013 we will continue to provide our customers with sophisticated IT security solutions "made in Germany" that are easy to operate, efficient to administer and can be controlled without any great effort. We are dedicated to prove again and again that the management of complexity in IT networks does not need to be complicated".
gateprotect will present the latest new developments at the CeBIT 2013 in Hannover: In Hall 12 at booth C82, the IT security provider from Hamburg will showcase new hardware and a new product for the enterprise market, to name only some examples.
Moreover, gateprotect will present its engagement at the bicycle race "Race Across America" (RAAM) at the CeBIT 2013. The company is supporting the team "4Athletes powered by gateprotect" that will cover a distance of more than 5,000 kilometers across the USA without a break in June 2013. Among the four cyclists, gateprotect's CEO Dr. Peter Smeets will participate in the race. The RAAM is embedded in a long-term sport sponsorship of the triathlon division of Eintracht Frankfurt e.V.
Download this Press Release under: http://www.gateprotect.de
About gateprotect
gateprotect AG Germany has been a leading, globally acting provider of IT security solutions in the area of network security for ten years. These solutions comprise next generation firewalls with all commonly used UTM functionalities, Managed Security as well as VPN client systems. To minimize the risk of operator errors in highly complex security functions, gateprotect has developed the eGUI® interface concept. The patented eGUI® technology (ergonomic Graphic User Interface) and the Command Center based thereon for the configuration and administration of firewall systems for managed security service providers (MSSPs) increase the factual security in companies and companies and allow for an efficient ongoing maintenance of the systems. Reputable companies and institutions in more than 80 countries are among the users of about 23,000 installed licenses worldwide. Since 2010, gateprotect has been listed in the renowned Gartner "Magic Quadrant" for UTM firewall appliances in the SMB market and is currently going through the "Common Criteria Evaluation Assurance Level 4 (EAL 4+)" – a certification procedure at the German Federal Office for Information Security (BSI). For the easy handling and comprehensive security of the UTM firewall solutions, gateprotect was the first German company to be awarded the Frost & Sullivan Excellence Award.
Further Information:
SCHULTZEPLUS
Thomas Schultze, Dagmar Schulz
Amsinckstr. 70
D-20097 Hamburg
Phone: +49 (0) 40 231 66754
Fax: +49 (0) 40 23166756
Email: ts@schultzeplus.de
Internet www.schultzeplus.de
gateprotect Aktiengesellschaft Germany
Anika Ohlsen – Marketing Communications Manager
Valentinskamp 24
D-20354 Hamburg
Phone: +49 (0) 40 278 85 0
Fax: +49 (0) 40 278 85 105
Email: Anika.ohlsen@gateprotect.com
Internet: www.gateprotect.de