New report reveals the rise of mums relying on technology to juggle various roles
Remember the image of the Super Woman in the 90s? Baby in one arm, briefcase in the other? As many women strived for the career driven yummy mummy ideal, a new report by Tesco Mobile shows that instead of pressuring themselves to be super, women today are being smart.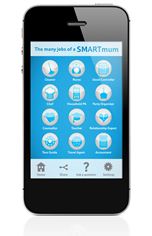 The SMARTmum
The demands on working mums remain high. The Tesco Mobile Family Matters Index shows that British mums hold down a whopping 12 'mum jobs' often alongside full or part time work.
Yet the way women are approaching their work, aided by technology, has given rise to a new kind of working woman - the SMARTmum.
Dubbed the 'SMARTmum', for running so many different tasks at once, the mums of Britain are taking on the role of everything from family PA, to party planner, to teacher, with a little technical support to help them along the way.
The research found:
72% of parents and grandparents believe that technology like mobile phones, instant messaging, Skype etc. makes it easier to maintain contact with family and friends

44% believe it makes it easier for them to keep tabs on children

61% state they use the technology to make social plans and arrangements

69% of parents and grandparents also believe that such technology allows them to feel reassured about their family's safety
Dr Katherine Rake, Chief Executive of the Family and Parenting Institute comments:
"Mums today not only work longer hours both at work and within the home, but are also the lynchpin of family life and the hub for family communication. Parents today are under pressure from all sorts of angles, and so mums today are making the most of the technologies at hand. Apps, social networks and IM might not make working women of today super – but is does help make them smarter."
A mother's work is never done – the many jobs of a SMARTmum:
Cleaner (82% of households)

Nurse (80%)

Stock controller (77%)

Chef (76%)

Household PA (76%)

Party organiser (75%)

Counsellor (73%)

Teacher (70%)

Relationship expert (69%)

Tour guide (61%)

Travel agent (60%)

Accountant (59%)
Visit tescomobile.com for tips and tricks to lighten the load and to find out about the great family perks on offer to Tesco Mobile customers.
ENDS
For more information please contact Sarah Sandland or Shannon Bailey at MHP:
Sarah.sandland@mhpc.com 0203 128 8113
Shannon.bailey@mhpc.com 0203 128 8091
*Research was conducted by Vision Critical on a sample of 2001 parents and grandparents of behalf of Tesco Mobile, June 2012
About Tesco Mobile:
Tesco Mobile is a 50:50 joint venture between Tesco and O2. The company sells exclusively Tesco Mobile branded services in Tesco stores, online and through Tesco Direct, across the UK using O2's technology and network. The service gives Tesco Mobile customers value, simplicity and choice, offering them simple, great value tariffs with rewards such as free credit and Clubcard points.
Tesco Mobile has been shortlisted as best tech provider by Which? Consumer Group 2012 and was selected as the number one mobile network for customer satisfaction for both Pay as you go and Pay Monthly by J.D Power and Associates Group in 2011.
About the Family and Parenting Institute:
The Family and Parenting Institute is an independent charity working to improve the lives of children and families now and in the future through campaigning, research and practical support. See www.familyandparenting.org for more details.