Lichtenau/Baden, Germany – LS telcom's subsidiary Colibrex has introduced a new customisable shelter solution for military purposes. The new ShelTec protective shelters are designed to host electronic warfare (EW) operation centres, command and control centres, mobile and stationary outpatient units, as well as maintenance and service entities.
Colibrex adapts the ShelTec Design containers to the requirements and applications of the customer. As opposed to corrugated, the ShelTec container walls are "sandwich" panels made of smooth and sutureless aluminium sheets with a middle layer of insulating foam. Number, size, and position of entry panels, windows and other openings are completely customisable. The interior can be fitted with any type of equipment and facilities. The ShelTec Design meets shielding requirements from 150 kHz to up to 6Ghz with an attenuation of up to 60dB.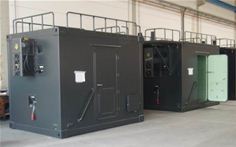 A possible ShelTec Design Container Solution
The lightweight aluminium enables transportation of the units by several means; truck, plane and helicopter. The units can be equipped with an electrical lifting jack for autonomous lifting and loading and can be crane hoisted or fork lifted.
"With our ShelTec Design containers we are serving a niche market. The units are durable and withstand extreme weather conditions, indispensable for military deployment and other sensitive applications. The special appeal of the ShelTec Design containers lies in their mobility and adaptability. The units can be adapted for serving many different purposes. At the same time, we can produce very small quantities at competitive prices," explains Luc Haeberlé, Managing Director of Colibrex.
Ends
Visit us at Eurosatory, 13th – 17th June, in Paris, Hall 6, stand JH527
LS telcom's shelter solutions' portfolio:
ShelTec Design shelters are part of LS telcom's portfolio of containerised solutions for sensitive equipment:
M-Design

Broadcast transmitter containers for low-, medium- and high-power RF transmitters
Steel standard shelters based on maritime containers including chromadek inner panels for insulation
The very robust enclosures and the roof are able to withstand extreme weather conditions associated with RF transmission sites

and their lightweight counterpart FP-Design (Flat Pack) portable shelters for remote broadcast sites:
The different components of these including the roof and base can be carried up to very remote sites by hand and the complete RF transmission shelter will only be fully assembled and deployed at the site. The flat pack containers are available in all sizes and equipped with all extra facilities that RF transmission shelters need.
The shelters can be used for broadcasting facilities (studio &transmission), two-way radio communication networks, general telecommunication applications, standby generators and hybrid power supply systems, mobile clinics/laboratories, data centres and connectivity access centres.
About Colibrex
Colibrex designs and markets lightweight shelters for the military and for mission-critical applications. It also delivers containerised broadcast transmitter systems.
At the same time, Colibrex is a pioneer and worldwide leader in airborne RF measurements. It develops and operates drones for RF antenna measurements and optimisation.
Colibrex is also a regional manufacturer for mechanical components, and targets industries where precision, thoroughness, flexibility and small to medium-sized batches are requested.
Colibrex is a 100% subsidiary of LS telcom AG.
About LS telcom
LS telcom's software, system solutions, and services address the efficient use of radio frequency spectrum and the optimal operation of radio communication services.
We are a worldwide market leader in the provision of automated spectrum management systems and their integration with monitoring systems. We also have our own monitoring system, including fixed, portable, and airborne sensors. At the same time, we develop and market software for the design, planning, and optimisation of broadcast, PMR, mobile and microwave networks. Strategic consulting, radio engineering services, and training on network technologies, standards, and regulations as well as transmitter installations and measurements complete our area of expertise.
Frequency regulatory authorities, ministries, network operators and infrastructure providers, system integrators and military organisations in over 100 countries across all continents rely on our solutions and services.
LS telcom operates worldwide with subsidiaries and affiliates in Canada, China, France, South Africa, UAE, UK and USA, as well as representative offices in Argentina, Hungary, and Oman. With its headquarters in Lichtenau, Baden, Germany, LS telcom is listed on the German stock exchange under ISIN DE 0005754402 since 2001. www.LStelcom.com
Contact:
LS telcom
Christiane Labitzke
Marcom Manager
Email: clabitzke@LStelcom.com
Tel: +49 (0)7227 95 35 296 (Germany)
Tel: + 33 (0)1 39 26 85 85 (France)
www.LStelcom.com
Colibrex
Luc Haeberlé
Managing Director
Email: lhaeberle@Colibrex.com
Tel: +49 (0)7227 95 35 921