Now available in the iTunes Appstore: My Stress Coach, a self-help training program that teaches you another way of dealing with stress in your life. This iPad application has been developed by a Dutch organization for mental health care.
Contents
My Stress Coach helps you to get better at managing stress. The training program teaches you how to handle stress more effectively. Experienced psychologists and coaches have developed the contents.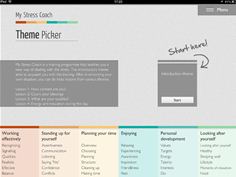 Theme Picker
The training consists of six themes related to stress and a free introductory theme. Participants can purchase separate themes according to needs and preference. Each theme consists of a theoretical part and a workbook, with exercises and assignments.
Theme 1: Working effectively
Theme 2: Standing up for yourself
Theme 3: Planning your time
Theme 4: Enjoying yourself
Theme 5: Personal development
Theme 6: Looking after yourself
Stress
Stress is unavoidable. A common belief is that stress is bad for us. This does not have to be the case. Some stress can even be beneficial and a challenge to a better performance. It's the ongoing strain and pressure that can be harmful for our health and wellbeing. In other words: when one's resources meet the demands, stress acts as a stimulating factor that contributes to success. However, when demands exceed resources, one experiences the type of stress associated with health problems and deteriorating relationships.
Benefits of My Stress Coach
Participants can start the training program wherever and whenever they like: at home, at work or on the go. My Stress Coach helps to recognize symptoms and signals of stress. It teaches strategies and techniques to reduce and prevent stress. Appreciation for the good things in life, a healthy life style, relaxation and personal development increase the ability to cope with stress. As a result the training helps to restore a balance in life.
---
Note:
For further information about My Stress Coach please check our website (www.mystresscoach.eu) or the iTunes store.
The price per theme varies from € 1,79 to € 4,49 | £ 1,49 to 2,99| $ 1,99 to 4,99 and is valid until March 24 2013. My Stress Coach is exclusively developed for iOS.
For questions about My Stress Coach or the backgrounds of this project please contact:
Mr. Dietmar Griep
Project manager
E d.griep@boumanggz.nl
T +31 88 230 3300
Bouman GGZ
Max Euwelaan 1
3062 MA Rotterdam
The Netherlands