Overwhelming support from global mobile industry, satellite and telecommunications experts as over 2000 professionals attend first event of its kind
11 December 2014 – Following the success of CommuniCast 2014, Myanmar's first telecommunications infrastructure and mobile technology show, the Myanmar government has emphasised its support for the developing ICT industry with plans for deregulation and a national satellite programme. The CommuniCast event will return from 17-19 November 2015 at Myanmar Event Park, Yangon.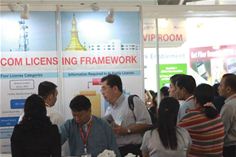 Myanmar CommuniCast 2014 event
Over 2000 mobile, satellite and telecommunications professionals from Myanmar and around the world attended the event in Yangon last month reflecting the growing interest in the emerging and fast developing Myanmar ICT industry.
Talking about the event, keynote speaker at the co-located Satellite Forum and Deputy Minister, Ministry of Communications and Information Technology Myanmar H.E. U Thaung Tin said: "The Ministry is very pleased to be supporting CommuniCast Myanmar, which is very different from all other events in the country, offering a professional platform for the emerging and fast developing Myanmar ICT industry to meet. CommuniCast Myanmar, combined with the Myanmar Satellite Forum and Menander University Mobile Seminar series, helps combine a show with a timely exchange of ideas and lively discussions."
"With the deregulation of the broadcasting market, the preparation of a broadband master plan and the launch of unlimited ISP licenses, many new opportunities are in the pipeline. We look forward to actively supporting the development of the CommuniCast Myanmar event," he added.
In addition to the CommuniCast Myanmar exhibition, the organisers also ran a series of conferences and seminars. The Myanmar Satellite Forum, which attracted 169 delegates, explored topics which ranged from 'Connecting the Digital Village' to 'Disaster Preparedness and Government Services.' The Entrepreneur Institute of the planned Menander University Foundation also ran the Myanmar Mobile Seminar Series.
"The Government had already shown its commitment with the granting of two international mobile licences and this sent a strong message to the world that Myanmar is committed to infrastructure development on a truly massive scale, through 'an open, fair and transparent tendering process'" said Overseas Exhibition Services Ltd and Event Director, Rupert Owen.
"This year's event was a significant success and we are looking forward to building on this platform at next year's show, making CommuniCast bigger, better and even more internationally significant," he added.
With the Ministry aiming to increase the teledensity of Myanmar from around 20% in 2014 to 75% in financial year 2015/2016 the opportunities for suppliers are bright, especially with the opening up of the ISP, broadband, banking and broadcasting markets.
The CommuniCast Myanmar event will return from 17-19 November 2015 at Myanmar Event Park, Yangon.
ENDS
For further information please contact Brian Dolby or Sheila Lashford at Proactive International PR on +44 1636 812152, or send an email to brian.dolby@proactive-pr.com or sheila.lashford@proactive-pr.com
About CommuniCast Myanmar
CommuniCast Myanmar 2014 will be the first event of its kind to embrace the country's telecommunications market. The exhibition at the Myanmar Event Park in Yangon will allow companies to showcase their products and services to key decision-makers as well as networking and gaining valuable market knowledge. For further information, visit: http://www.communicastmyanmar.com/