NHS demand for secure cloud services met by Service Provider ahead of competition
London, UK 10 May 2012: Proact, Europe's leading storage integrator and cloud services enabler, is today announcing its IGSoC (Information Governance Statement of Compliance) certification, allowing Proact to bring its proven cloud services to the NHS.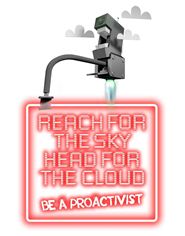 Proactivist
This will be a welcome move in the wake of the much-publicised criticism of the NHS National Programme for IT and in response to recent shakeup in the NHS budget and a number of high profile data breaches. With a savings target of £20bn by 2015, the NHS is under increasing pressure to deliver these savings and improve its processes whilst ensuring sensitive data is kept secure.
Proact's range of secure, enterprise Managed Cloud Services is now tailored specifically to meet the demanding data protection and security requirements of NHS organisations. With more than a decade of experience in cloud computing, NHS organisations can now benefit from Proact's proven history of delivering cost effective, secure, available and flexible Cloud Services based on enterprise technology.
Proact brings a history of success with the NHS, as was recently proven following a recent award for Supplier of the Year and Best-Delivered Project from Wrightington, Wigan and Leigh NHS Foundation Trust. Andrew Foster, Chief Executive of the Trust, said: "Proact provided us with a virtualization solution which saved us £1.86m over five years and gave a return on our investment in less than 18 months. More valuable to our patients however is the security of patient data that the Proact solution ensures. Key services remain up and running without compromising the level of healthcare dispensed to our patients."
With a number of health organisations already benefiting from Proact's Cloud Services, Jason Clark, CEO, Proact, says: "A drive for economies is a rising trend in the NHS. It's a unique market with specific requirements and IT systems have to match that. Having worked with the NHS for a number of years we've tailored our solution to fit their needs exactly; this means a trusted IT solution that address the specific challenges unique to the NHS. We are currently the only organisation in the UK offering the NHS a bespoke cloud service."
ENDS
About Proact
Proact is Europe's leading Independent storage integrator and cloud enabler, with a UK turnover of £60m and over 180 employees. Delivering business agility since 1994, our solutions cover all aspects of data storage, virtualisation, networking and security - with over 3,500 projects successfully delivered and 11PB of data under management in the Proact Enterprise Cloud. ISO9001, 27001 AND IGSoC Certified, Proact have been delivering cloud services for over 5 years and have over 50 cloud references. Proact operate in 13 countries across Europe with a group turnover of 250 M€. Since 1994, Proact shares have been listed on NASDAQ OMX Stockholm with ticker symbol PACT. Additional information about Proact is available at www.proact.co.uk
About NetApp
NetApp creates innovative storage and data management solutions that deliver outstanding cost efficiency and accelerate business breakthroughs. Our commitment to living our core values and consistently being recognised as a great place to work around the world are fundamental to our long-term growth and success, as well as the success of our pathway partners and customers. Discover our passion for helping companies around the world go further, faster at www.netapp.com.
Media Contact:
Champion Communications
+44 207 637 2587
proact@championcomms.com