Used to receive work schedules, locate sites through GIS applications, carry out risk assessments and report activity
Northumbrian Water has rolled out 500 Panasonic Toughpad FZ-G1 tablets to its field workers. The rugged devices are the single mobile tool used by NWL's field force to provide real-time access to all its major systems. They are used to receive work schedules, locate sites through GIS applications, carryout risk assessments and report activity. Photos of sites or incidents can be taken using the tablet's camera and attached and sent directly to the system. Users can also access their office email and the internet, ensuring they have access to all the important systems when out working.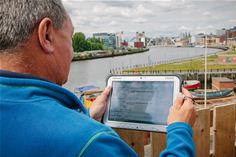 Panasonic Toughpad FZ-G1
NWL, which operates in the north-east of England, where it trades as Northumbrian Water, and in the south-east of England, where it trades as Essex & Suffolk Water, shortlisted eight different mobile devices for testing and then invited 30 field staff to a series of workshops. The users were split into two different groups. Group One was made up of individual technicians, whose role was to visit customers and identify faults on the network. Group Two consisted of a two-person maintenance team that carried out repairs or made additions to the network.
"We were quite surprised at the result, when both groups chose exactly the same device," said Jim Howey, Distribution Maintenance Manager, NWL. "The Panasonic Toughpad FZ-G1 tablet was the clear choice for both technicians and the maintenance teams."
"People were really impressed with just how rugged the device was and the fact that it could genuinely be used in an outside environment; and not just in the rain, the screen was clearly visible in bright sunlight as well," said Jim. "Users were also impressed with the touchscreen capabilities. Being able to zoom in quickly and easily on documents, GIS maps and schematics was a real advantage."
Paul Davidson, Utility Sales Manager, Panasonic Toughpad, added: "With the Panasonic Toughpad FZ-G1 tablet, NWL has chosen a fully rugged device designed to be the single tool that field workers can rely on when carrying out their challenging roles."
The Panasonic Toughpad FZ-G1 tablet
The fully rugged Toughpad FZ-G1 tablet with Windows 8.1 Pro sets the new benchmark for outdoor viewable tablets making it ideal for field workforces in outdoor scenarios. With its capacitive, 10-finger multi-touch display and digitiser pen and flexible configurable ports this device can be used to view high definition documentation and images in the field whilst benefitting from connectivity options to ensure data is always available when needed.
For more information on the NWL story visit: http://business.panasonic.co.uk/computer-product/force-download/125132/northumbrian-water.pdf
Press contact:
Michael Bartley
+ 44 (0) 118 949 7750
michael@ambergroup.net
About Panasonic System Communications Company Europe (PSCEU)
PSCEU is the European branch of Panasonic Systems Communications Company, the global B2B division of Panasonic. PSCEU's goal is to improve the working lives of business professionals and help their organisations' efficiency and performance. We help organisations capture, compute and communicate all sorts of information: image, voice, and textual data. Products include PBX telephone switches, document printers, professional cameras, projectors, large visual displays, rugged mobile PCs and fire alarms solutions. With around 400 staff, engineering design expertise, global project management capability and a large European partner network, PSCEU offers unrivalled capability in its markets.
PSCEU is made up of four product categories:
Communication Solutions, including professional scanners, multifunctional printers, telephony systems and SIP terminal devices.
Visual System Solutions, including projectors and professional displays. Panasonic offers the widest range of Visual products, and leads the European projector market with 28% revenue share. (Futuresource B2B market tracking, Q1/2014)
Professional Camera Solutions, including Broadcast & ProAV products, security, fire alarm systems and industrial medical vision (IMV) technology. Panasonic is one of the top two professional camera vendors in Europe.
Computer Product Solutions helps mobile workers improve productivity with its range of Toughbook rugged notebooks, Toughpad business tablets and electronic point of sales (EPOS) systems. As European market leaders, Panasonic Toughbook had a 66.4% revenue share of sales of rugged and durable notebooks and Panasonic Toughpad held a 50.4% revenue share of sales of rugged business tablets in 2013 (VDC Research, March 2014).
Disclaimer:
All brand names shown are the registered trademarks of the relevant companies. All rights reserved.
All working conditions, times and figures quoted are optimum or ideal levels and may differ as a result of individual and local circumstances.
Specifications, product availability and price given herein may be changed at any time without prior notice.