Natural Power acquires Ascent Technologies
Leading renewable energy consultancy and service provider, Natural Power, has acquired the Texas-based firm Ascent Technologies – a developer of software for commercial unmanned aerial systems (UAS) operations.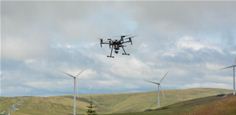 Natural Power drone
The specialist software, which has been developed by Ascent Technologies during the course of the past two years, will enable Natural Power to automate drone flights, thus increasing speed, consistency and quality of the data gathered during wind turbine blade inspections. Watch Natural Power's drone video here https://vimeo.com/315845975
The automation enabled by this new software means that the drone system calculates and manages the optimal flight along the surfaces of the blades without pilot intervention, as well as constantly monitoring, adjusting and optimising camera angles, exposure, focal distance and timing of the image acquisition. This ensures excellent data quality capture during the inspection process, whilst also enabling a much quicker inspection process that reduces the turbine's downtime and associated loss of revenue. The cost to undertake the inspections are lowered and the images obtained during the process are of consistently high quality.
Craig Gordon, Global Head of Inspections at Natural Power, said: "Our blade inspections business continues to gather pace and we have invested in a number of drones that will complement our existing blade inspection services. The acquisition of Ascent will enable us to deliver a step change in the wider inspections service that we offer to clients, and coupled with our expert analysis, ensures we deliver a consistently high quality service."
Stephen Trotter, Managing Director at Natural Power commented: "We continue to invest in key technologies and skills to deliver improved quality and value to our customers. The acquisition of Ascent accelerates this for our inspections business which plays a key role both as a standalone service and as a complement to our analytics, due diligence, operational and asset management services."
Natural Power is recognised across the renewables sector for its proven track record across the full scope of inspection services, and has worked across various turbine types including, but not limited to, Siemens, Vestas, Senvion, GE, Enercon and Nordex. This has included work in Europe and The Americas. The team uniquely understands the need to achieve best quality data, combined with efficiency in order to maximise the uptime of turbine fleets whilst verifying their condition and integrity. Find out more here https://www.naturalpower.com/our-services/inspections/.
About Natural Power
Natural Power is a leading independent renewable energy consultancy and service provider that employs 360 staff globally. The company offers proactive and integrated consultancy, construction and operational management and due diligence services, backed by an innovative product range, across the onshore wind, offshore wind, solar pv and energy storage and renewable heat sectors as well as other emerging renewable energy technologies.
www.naturalpower.com
https://twitter.com/Natural_Power
https://www.linkedin.com/company/natural-power
ENDS
Contact details:
Jane Maher, PR and Media
Natural Power
T: 07887 995 589
E: janem@naturalpower.com