Leading renewable energy consultancy and service provider, Natural Power, has acted as technical advisor to London headquartered Cubico Sustainable Investments ("Cubico") for the refinancing of its UK renewables portfolio which is comprised of 17 onshore wind farms and solar photovoltaic (PV) projects.
Natural Power carried out technical due diligence services on all 17 operational wind and solar farms across the UK, including an assessment of the projects' long-term energy production and the benefits gained from a geographically and technologically diverse portfolio.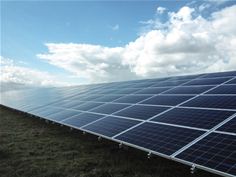 Broxted Solar Farm
Hannah Staab, Principal Solar and Energy Storage Consultant at Natural Power, said: "This will most likely be one of the largest portfolio financings closed in the UK renewables market this year, and we were delighted to draw on our extensive wind and solar PV expertise in order to advise Cubico on such a landmark transaction."
Cubico raised £258 million of non-recourse, long term project finance debt with a £14-million debt service reserve facility. The refinancing was arranged with National Australia Bank, Siemens Financial Services through its in-house bank Siemens Bank, ING Bank and Landesbank Hessen-Thuringen (Helaba).
The wind and PV portfolio totals 200 MW, and all projects began commercial operations between 2013 and 2016. The power plants operate under the UK's renewables obligation (RO) and feed-in tariff (FiT) schemes.
The project has recently been announced as a finalist in the 2019 British Renewable Energy Awards – shortlisted in the Financial Leadership category which recognises projects that have accelerated the deployment of renewables in the UK.
To find out more about maximising value through portfolio diversity, download Natural Power's white paper here https://www.naturalpower.com/maximising-value-through-portfolio-diversity/
Natural Power's global due diligence team provides services throughout all stages of the transaction cycle, from initial risk assessment and reporting in early transaction stages through to comprehensive reporting for credit-committee or data room presentation at final bid stage or financial close. Find out more here https://www.naturalpower.com/our-services/due-diligence/
About Cubico
Cubico is one of the world's leaders in providing renewable energy, and it covers the whole energy chain from development and/or construction to operation and management. With a strong foothold in nine countries (UK, Ireland, Spain, Italy, Portugal, Brazil, Mexico, Uruguay and USA), its portfolio includes onshore wind, solar photovoltaic and solar thermal, and has an installed capacity of over 2.6GW - generating enough clean energy to power more than 1.5 million homes.
About Natural Power
Natural Power is an independent consultancy and service provider that supports a global client base in the effective delivery of a wide range of renewable projects including onshore wind, solar, renewable heat, energy storage and offshore technologies. It has a global reach, employing more than 365 staff across 11 international offices. Its experience extends across all phases of the project lifecycle from initial feasibility, through construction to operations and throughout all stages of the transaction cycle.
www.naturalpower.com
https://twitter.com/Natural_Power
https://www.linkedin.com/company/natural-power
Contact details:
Jane Maher
PR and Media
Natural Power
T: 07887 995 589
E: janem@naturalpower.com