Leading renewable energy and infrastructure consultancy, Natural Power, has provided the finance-grade energy yield analysis (EYA) and associated reliance letter for Capital Power Corporation's 99MW New Frontier Wind Project in McHenry County, North Dakota.
Jim Adams, President of Natural Power North America, said: "It's fantastic to be involved in a project of this scale which underpins the continued growth of the US renewable energy market. Our EYAs are relied upon for both wind and solar financing, and it's encouraging to see widespread market acceptance across the tax equity community and confidence in our work as our team continues to expand to meet the needs of the industry".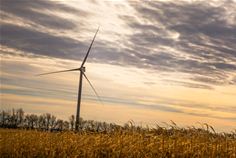 New Frontier Wind Project
The New Frontier Wind facility, featuring 29 Vestas V126-3.45 wind turbines, was completed on schedule and below its original project cost estimate of approximately $182 million (US$145 million), and began commercial operation on December 21, 2018. On December 31, 2018 Capital Power received approximately $125 million (US$92 million) in net tax equity financing from J.P. Morgan in exchange for Class A interests of a subsidiary of the Company.
Capital Power will operate New Frontier Wind under a 12-year fixed price contract with an investment grade U.S. financial institution covering 87% of the facility's output. Under the contract, Capital Power will swap the market revenue from a fixed volume of New Frontier Winds generation for a fixed price payment over a 12-year term.
Paul Wendelgass, Managing Director at Capital Power, said: "Natural Power's role as an independent engineer for energy yield analysis was critical in helping New Frontier achieve commercial operation and tax equity investment within the timescale required".
Natural Power provides due diligence services globally - to find out more please visit https://www.naturalpower.com/our-services/due-diligence/
About Natural Power
Natural Power is a leading independent renewable energy and infrastructure consultancy that employs 360 staff globally. The company offers proactive and integrated consultancy, management and due diligence services, backed by an innovative product range, across the onshore wind, offshore wind, solar pv and energy storage sectors, while maintaining a strong outlook on other new and emerging renewable energy sectors.
www.naturalpower.com
https://twitter.com/Natural_Power
https://www.linkedin.com/company/natural-power
Contact details:
Jane Maher, PR and Media
Natural Power
T: 07887 995 589
E: janem@naturalpower.com