The age of austerity is making us more environmentally conscious at work, a national survey for Green Office Week has revealed.
The YouGov poll, commissioned by office products manufacturer Avery, found that nearly half the UK's office workers (47%) said their offices have actively become greener as a result of the economic downturn as staff put more effort into recycling, turning off unused lights and saving on the heating bill.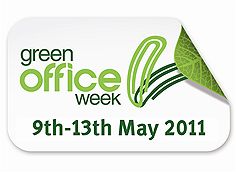 Green Office Week Logo
Fifty per cent of office workers say they have personally become more green and 24% say they could be even greener at work with more encouragement from managers.
Nearly six out of ten (57%) believe a greener workplace has more chance to save money.
Nicky Amos, an expert in Corporate Social Responsibility, said: "It's clear that the current economic situation is forcing many workplaces to become greener. More and more office workers are behaving in an environmentally sound and more efficient manner. This survey reinforces what many companies are finding - that a greener office can help the bottom line."
The survey found the most common practical ways that office workers were personally greener in the last year included recycling paper (69%), turning off computer equipment and machinery when not in use (67%), switching off unnecessary lighting (61%) and choosing double-sided printing (48%).
Other green actions included re-using cardboard boxes (42%), choosing more environmentally friendly office products such as recycled stationery (20%), turning down the heating or air conditioning (22%) and finding uses for shredded paper (14%).
However, despite this, only 17% of respondents said their office was 'very or completely green'. Only two per cent said their office was 'as green as possible' and more than a quarter, 28%, said their office was 'not very green' or not at all green.
A number of factors prevent people being greener in the office. A quarter of office workers (24%) highlighted a lack of encouragement as a reason why themselves and colleagues were not greener in the office, 19% said there was too much effort involved, 18% referred to cost and 16% blamed a lack of information on how to go about it.
Green Office Week supporter Alistair McGowan, the impressionist, actor and environmental campaigner, said: "If, like me, you spend most of your waking hours at work, I'd encourage you to take part in Green Office Week. It's not about being downhearted regarding climate change – it's a prompt to think and act just a little bit smarter. Green Office Week makes the point in a clever interactive way that we can all do simple, practical things to make a positive difference to our environment. By getting involved and embracing the various tips and ideas in the campaign and on the website, we can all change our behaviour for the better and, in our cuts-driven world, save a lot of money!"
Avery's third annual Green Office Week is an award-winning initiative designed to address some of these concerns and encourage office workers to spring into action and adopt practical ways to help the environment.
Between Monday 9 and Friday 13 May, a series of daily tips can be found at www.greenofficeweek.eu along with downloadable resources to help make workplaces greener.
At the same time, a voluntary network of Green Office Week Ambassadors up and down the country will promote daily themes involving energy, transport, waste and other green issues. They will post blogs about their activities and share good practice with other green-minded individuals.
As well as raising awareness, the week will encourage offices to review purchasing habits in line with environmental targets, devise action plans for the future and celebrate the achievements of people who consider the environment at work.
Avery won the 'Green Champions (Customers)' Award for last year's Green Office Week at the 2010 Green Business Awards, the UK's most comprehensive awards scheme for environmental business performance.
- ends -
Editor's notes
In other findings from the YouGov poll:
- Only a third of respondents (33%) are confident their managers are clear about the practical steps that can be taken to make the office greener, yet just over half (52%) accept it is a shared responsibility between staff, management and the government equally.
- Almost a third (32%) think senior management has most responsibility for ensuring an office is green. A tiny fraction, three per cent, think government has most responsibility for ensuring an office is green.
- Nearly four out of ten respondents (39%) believe the Coalition is doing about the same as the previous government in encouraging people to be greener at work. Only 11% say it is doing more, while 20% say it is doing less.
- Eight per cent of respondents said themselves and colleagues were put off trying to be greener for fear of being called the office do-gooder.
- Regionally, 65% of office workers in London say their office has become greener as a result of the economic crisis compared to just 40% in Scotland. London also has the highest percentage of office workers (65%) who say they themselves have become more green as an individual in the office.
- Office workers in London and Scotland (75%) are the most likely to have recycled paper in the last year, while those in the Midlands (66%) are the most likely to have switched off unnecessary lights. Thirteen per cent of office workers in the North say they have not done anything to be greener at work in the past year compared to just six per cent in London.
- Respondents in the East of England (34%) are most likely to cite a lack of encouragement as a barrier to going green in the office, while those in the Midlands (28%) are most likely to highlight cost as the main obstacle.
- Scotland has the highest number of office workers (44%) who think senior management has most responsibility for ensuring an office is green. The South has the highest proportion (57%) saying it is a shared responsibility between staff, the government and management.
- On the Coalition's performance in encouraging people to be greener at work, 25% of respondents in London think it is better than the previous government's record compared to just six per cent in Scotland.
All figures are from YouGov Plc. Total sample size was 2,255 adults of which 751 were respondents who work solely or mainly in an office. Fieldwork was undertaken between 7 and 10 January 2011. The survey was carried out online. The figures have been weighted and are representative of all UK adults (aged 18+).
About Green Office Week
Green Office Week empowers UK office workers to make a difference and to help their office environment work for the natural environment in practical ways. Research has shown that office workers are not apathetic towards green issues but are disempowered by lack of knowledge and facilities. Taking place on May 9-13th, the week aims to unite offices around the country in an effort to change this, raising awareness of the issues and offering practical help to office workers to begin to make a difference. For more information, log onto www.greenofficeweek.eu.
About Avery
Avery Office Products markets products under the well-known Avery brand name and is one of the world's leading manufacturers of self-adhesive labels and paper products for laser and inkjet printers, labelling software, index dividers and a wide range of other products for both consumer and industrial markets. Avery Dennison Office Products Europe, a business unit of Avery Dennison Corporation, has manufacturing operations in UK, Germany and Italy and sales and marketing offices in more than ten countries across Europe. For more information about Avery products, consumers can visit www.avery.eu. Avery and all other Avery brands and product names are trademarks of Avery Dennison Corporation.
Media enquiries to:
Sadie Edwards and Scott Sinclair at Footprint Communications on 01962 738718. Email sadie@footprint-comms.co.uk or scott@footprint-comms.co.uk.