Paris, France and Amsterdam, NL, IBC10, September 11, 2010 - Netgem (www.netgem.com), a leading provider of connected entertainment products, today announces the launch of a new range of Internet/TV adapters. These products offer an affordable solution for service providers looking to offer a seamless blend of broadcast, and optimised web content within a unified TV experience.
The N5000 series Netbox works with any Internet source, regardless of connection type. Building on the NetgemTV open software platform it is pre-loaded with a range of popular web applications beyond the standard set of services, these include versions of Youtube, Facebook and Flickr, all of which have been re-designed to best suit the TV experience.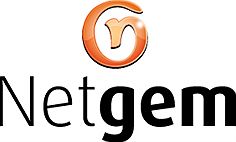 Netgem logo
The UI can also be personalised by the operator or service provider and added-value services, such as VOD, catch-up TV or WebTV channels can be integrated to enrich their offering.
The N5000 includes a HD tuner, allowing end users to switch from Internet services to TV services using the same remote control. Users can also choose to connect a detachable hard disk to the device, to allow them to permanently store video content recorded from the tuner.
Welcoming the new N5000 Netbox series to the Netgem family, Christophe Aulnette, Netgem's managing director, said: "With the launch of our new N5000 Netbox, Netgem is building on its position in the highly dynamic connected-TV market. Using our open and customisable technology our customers - whether operators or manufacturers -, can now differentiate their package against those of Apple and Google by merging linear TV IPTV and web content. Moreover they can offer this to millions of existing subscribers in a highly cost-effective way."

The new N5000 Netbox is demonstrated on the Netgem booth at IBC 2010 in Amsterdam – in Hall 9 Stand 405 in the Connected World. First European deployments of the device are scheduled before the end of the year.
About Netgem
Installed in over 3 million homes around the world, Netgem is ranked number one for IPTV STB shipments in Western Europe and number 3 for IPTV globally in 2009 by Screen Digest. Netgem customers include: SFR, Telstra, Monaco Telecom, Elisa in Finland, Spec-Com for Algeria Telecom, Melita Telecom in Malta, Telekom Slovenia and FetchTV in the UK. Netgem is listed on Compartment C of Euronext Paris Eurolist (ISIN code: FR0004154060, Reuters code: ETGM.PA, Bloomberg code: NTG FP 7537).
www.netgem.com
Twitter http://www.twitter.com/netgem/
Media contact Netgem:
Andy Riley, AxiCom (for Netgem)
T: +44 20 8392 4073, E: mailto:andy.riley@axicom.com
Vanessa Vigar, Netgem Communications
T: +31 6 11 56 22 18, Vanessa.vigar@netgem.com