Hosts of the Gadget Show Use NeuroSky's MindWave to Move a VW Motor Car
San Jose, CA USA and Birmingham, UK, April 12, 2011 – Ever thought of being able to control electronic devices, toys or games with your mind? Well we may not be far off, as NeuroSky launched the first sub-£100 Mindwave headset at the Gadget Show LIVE, making it the world's first brainwave device for home use.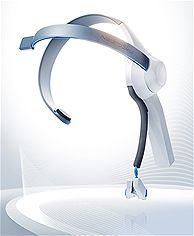 MindWave headset
Marking the launch NeuroSky teamed up with the Gadget Show and Loughborough University to set another bench mark – breaking a Guinness World Record for the "Largest Object Moved Using a Brain-Computer Interface."
Gathered on the set of The Gadget Show - the team worked to build and run the heaviest machine ever moved using a brain control interface. Their only equipment - an industrial crane lifting a Volkswagen with the aid of a giant magnet. Jason Bradbury, one of the Gadget Show hosts yelled, "the most amazing Gadget Show episode ever!"
After weeks of planning, the small group of cold, tired and occasionally unshaven technology enthusiasts exploded with excitement as the crane began to lift the VW wheels off the industrial cement floor. The Gadget Show hosts, used the brainwave sensor devices made by NeuroSky to control the 56 tonne crane.
For the first time, EEG, a technology that has been a mainstay in the medical field for decades, has been made inexpensive and easy enough for anyone to use. The MindWave headset is able to read the electrical signals naturally emitted from the brain and recognizes patterns of brainwaves that relate to certain mental states.
The software, which was engineered by NeuroSky partner Steve Castellotti, allowed the Gadget Show hosts to use a combination of concentration and eye-blinking to move the crane forward/backward, up/down, side-to-side. He stated, "I was testing the crane using my own attention and focus the first time when the solution began to work. It was actually a challenge suppressing my own excitement to maintain enough concentration to keep the crane moving! When the Gadget Show hosts carried out the entire sequence for the actual record, all of us were delighted."
David Westendorf, Vice President of Marketing and Business Development for NeuroSky said, "Our goal is to make Brain-Computer Interface technology available to many industries. Breaking the Guinness World Record is a fantastic example of what can be achieved with our brainwave technology and some good old fashioned creativity. We love to see people taking the MindWave and coming up with ideas that never would have occurred to us."
The Gadget Show Guinness World Record segment aired on April 11th at 8:00pm GMT, on Channel 5. NeuroSky will be attending the Gadget Show Live from April 13th - 17th in Birmingham, where they will be giving attendees a chance to use the actual NeuroSky MindWave headsets that broke the world record. One-on-one appointments are available in NeuroSky's booth during Gadget Show Live pre-show for press on April 12th, and during the show's expo from April 13th - 17th. In addition, press appointments will be available on April 18th in London. To schedule an interview with someone from the NeuroSky team, please contact Erika Maya below.
The MindWave is now available in the EU at www.NeuroSky.com
About MindWave Headset
The lightweight, easy to use MindWave headset includes a bundle of 12 custom games. It is available on PC and MAC and retails at €99 at NeuroSky.com. Additional games and applications can be downloaded from NeuroSky.com. The MindWave includes NeuroSky's ThinkGear technology, which uses EEG (Electroencephalography) from a single sensor to record brainwaves and outputs the data as proprietary algorithms (for focus and relaxation), power spectrum bands using FFT distribution (alpha, beta, theta, delta and gamma) and the raw brainwave (including muscle movement such as blinks).
ThinkGear is the basis for the hugely popular Mattel Mindflex toy. NeuroSky works with over 150 universities worldwide in many disciplines, including cognitive psychology, engineering, health, computer science, game development, cognitive research, etc. In addition to the ThinkGear technology being used in consumer products, this technology can also help to feasibly extend research budgets and provide flexibility in data collection.
About NeuroSky
NeuroSky, Inc. is the leader in Brain-Computer Interface technologies for consumer applications application. Founded in 2004 and headquartered in San Jose, CA, NeuroSky works with industry partners, developers, and with academic and research institutions, to provide innovative products and solutions.
Grounded in over 60 years of medical research, NeuroSky's technology has taken proven medical EEG (electroencephalograph) technology, and evolved it for application to the mass market by making it more user-friendly and cost-effective. Technological innovations include significant advancements in electrical noise reduction, dry-sensor development (rather than requiring a wet conductive gel), substantial "cost engineering" (reducing the price), and enabling the wearer to use it outside of a lab (without the assistance of a doctor).
Media Contact:
Erika Maya Ballantines PR
Erika@ballantinespr.com
Tel: +1.310.454.3080
Mob: +1.310.850.0309
Fax: +1.310.943.1978
www.ballantinespr.com
UK Media Contact:
Robin Dhara
RedRobin
robin@red-robin.co.uk
Tel: +44 788 080 7752
Kelly Atkins
RedRobin
katkins@red-robin.co.uk
tel: +44788 080 7752