Covini C3A is the first 6 wheeler supercar to receive the very exclusive invitation to Goodwood Festival of Speed by Lord March and was one of the stars of the show all weekend.
The exclusive and groundbreaking car attracted lots of interest from sport enthusiasts, both in the paddock and running up the hill. The Covini corner of the supercar paddock was constantly full of people marveling at the novelty of the car and wondering why… why 6 wheels?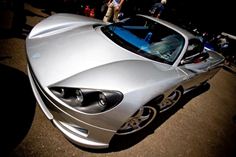 Chris Noble: www.doglikehorse.com
We asked Gianluca Covini, son of the Italian expert and mechanical engineer Ferruccio Covini who developed his passion for cars and engines by focusing his experimentation and innovation towards a very unique prototype.
Gianluca explains that, for performance enthusiasts, four front wheels offer the ability to get around a racetrack faster than ever before as better traction offers higher cornering speeds and deeper braking, particularly when the pavement is slippery or less than ideal.
In a roadgoing sense, even without considering the passive safety afforded by two front wheels at each corner (which means a front tyre puncture will not cause the vehicle to lose control), 6 wheels will grant additional stopping power afforded by four front discs and four tyre treads to transmit the force - although the individual area of each tyre tread is smaller than that of a traditional tyre, the total area is greater. Increased grip is also guaranteed by the drop in the individual unsprung weight of each wheel, offering much better directional stability and higher cornering speeds than a four wheeler. Finally the Covini feels more comfortable than it's 4 wheels rivals, thanks to less unsprung weight at each wheel, that allows the suspension to control wheel movement better and guarantees more evenly distributed reaction forces in the suspension.
Powered by an Audi 4.2 litre V8 that produces nearly 500bhp, and with its weight kept to just 1150kg using a tubular steel frame and a lightweight carbon fibre body, the Covini C3A is capable of exceeding speeds of 300kph (190mph).
Powered by its great technical innovation and Italian passion, the Covini C3A has been presented in the UK by Genius Car Ltd, a company founded by Eugenio Carugati (another Italian engineer with a passion for cars) and it's aimed at the top end of the market who requires unique, bespoke and innovative solutions.
With its bold, timeless design, genius technical innovation and extraordinary performance, the Covini C3A might lead the way to more manufacturers going the way of six wheels and, if we judge by the interest from both enthusiasts and experts at the Goodwood Festival of Speed this weekend, we'll certainly see some interesting developments in the world of motoring.