But 42 per cent of smartphone users have been put off by high price of iPhones so new budget iPhone 5C could have appeal
31 per cent of existing UK iPhone users say they want the new Apple iPhone 5S according to a consumer survey conducted immediately after news of the product was released last night (10.09.13). This indicates a drop in enthusiasm for the Apple phone brand since last year when a similar survey[1] conducted after the iPhone 5 launch revealed 44% of iPhone users were willing to upgrade straight away.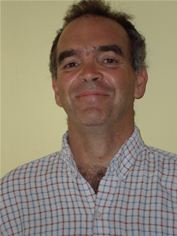 Guy Potter, director and market researcher at Usurv
A similar decrease in interest for the iPhone was revealed among all smartphone users in the sample with only 11 per cent saying they wanted to upgrade to the new iPhone 5S without needing any further information about the product. Last year's survey found 20 per cent were ready to switch to the iPhone 5 model immediately after launch.
And users of the iPhone's main competitor, the Samsung Galaxy, are mostly staying loyal, with only 6 per cent saying they want to switch to the iPhone 5S in the online poll of 1000 UK adults conducted by rapid online survey company, Usurv (www.usurv.com). Interestingly, 13 per cent of Blackberry users are ready to switch to the iPhone 5S, more than for any other competing brand.
The research found that Apple may be on track with the other new phone announced yesterday; the less pricey, iPhone 5C 'budget' model available for £469, sim-free. High prices for previous Apple devices appear to have been an obstacle for many UK phone-buyers with 42% of the sample revealing they had wanted an iPhone in the past but were put off because it was too expensive. This was highest amongst Nokia owners, with 59% of them not buying an iPhone in the past due to cost.
According to the research, the most popular feature on the iPhone 5S is likely to be its fingerprint reader - which provides user authentication for unlocking the phone - highlighted as the most appealing by 30 per cent of respondents. Most of the other new features provoked little interest and 40 per cent of the sample said that none of the new features appealed to them.
Guy Potter, director and market researcher at Usurv, said: "We ran research to gauge people's instant reactions to the new phone in the same way as we did after the iPhone 5 launch last year. Interestingly, while 31 per cent of iPhone users wanting to have the new iPhone 5S can hardly be called a failure, the desire for the phone does seem muted, with fewer people immediately excited by the device than for last year's model. Of the new features, only the fingerprint reader seems to have caught people's attention. The brand is under pressure to deliver excitement and innovation at every launch and this time the initial mood indicates that in that sense it has failed.
"The fact that a significant slice of people had been put off buying an iPhone in the past could suggest that Apple might be able to tap in to a wider market with the lower priced iPhone 5C. However it's difficult to say whether the price is actually low enough and how operators will price it in their contracts."
Participants were asked:
The Apple iPhone 5S has just been launched. Which of the following features do you find most appealing:
| | |
| --- | --- |
| Feature | Percentage |
| A fingerprint reader for security. This recognises your fingerprint to let you quickly and securely unlock your phone. | 30% |
| The new phone's camera will let you take better photos in low-light areas. | 9% |
| The camera now has automatic image stabilisation to prevent shots being ruined by shaky hands | 6% |
| A better video camera gives users the ability to create smooth slow motion videos | 3% |
| A choice of colours: silver, gold and a new "space gray" | 2% |
| A chip that continuously monitors the phone user's movement, providing data which can be used in health and fitness apps. | 5% |
| Apple's word processing, spreadsheet and presentation apps will be included (they had previously cost extra). | 6% |
| None of them appeal to me | 40% |
Do you want to upgrade to the iPhone 5S:
| | | | |
| --- | --- | --- | --- |
| Existing phone brand | Yes | No | Want to find out more |
| iPhone | 31% | 41% | 27% |
| Samsung Galaxy | 6% | 70% | 24% |
| Nokia | 9% | 65% | 26% |
| HTC | 11% | 60% | 29% |
| BlackBerry | 13% | 61% | 26% |
Apple has also launched the new iPhone 5C, a less pricey iPhone. In the past have you ever wanted an iPhone but been put off because it has been too expensive?
| | |
| --- | --- |
| Brand | Yes |
| iPhone | 40% |
| Samsung Galaxy | 39% |
| Nokia | 59% |
| HTC | 44% |
| Blackberry | 44% |
-Ends-
[1] A press release with the results from last year's Usurv poll conducted immediately after the launch of the iPhone 5 can be viewed here: http://www.realwire.com/releases/44-per-cent-of-UK-iPhone-users-want-the-new-Apple-iPhone-5-says-new-poll
About Usurv
Usurv is an internet company which has developed a self-service online survey platform that delivers the fastest, most cost effective method of running short online surveys. Initially available in the UK, it has opened up the market for this kind of quantitative research by making it accessible to small businesses for the first time, as well as providing a more efficient, faster solution to traditionally heavy users of research such as major brands, marketers and PRs.
The company's key differentiators include its easy-to-use, real time approach to asking survey questions across a network of affiliate partner sites and its high survey completion rate (around 30 per cent). These factors enable Usurv to deliver meaningful results in close to real time (as little as one hour for 1000 responses) at a fraction of the price of traditional offerings, without sacrificing quality.
Unlike existing online research, such as omnibus surveys, Usurv offers a flexible, easy-to-use service in which individual questionnaires of up to five questions can be created and scheduled to run immediately or at a specific time in the future.
The company was established in the UK in January 2012 by a team that includes successful online entrepreneur, Martin Bysh, and experienced market research director, Guy Potter. It is based in London and is privately held.
Media Contact:
CloudNine PR
Uday Radia +44 (0)7940 584161/uradia@cloudninepr.com
Chris Measures +44 (0)7976 535147/chris@measuresconsulting.com