Lack of standards for bug bounties is leaving researchers, organisations and bounty platforms confused and at risk
26 July 2018: Bug bounty programmes are in urgent need of defined best practices and codes of conduct conclude CREST, the not-for-profit accreditation body representing the technical information security industry, in its latest position report, 'Bug Bounties; Working Towards a Fairer and Safer Marketplace'.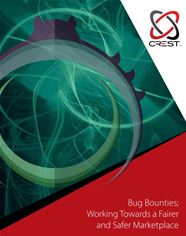 Bug Bounties; Working Towards a Fairer and Safer Marketplace
With rapid growth in the bug bounty marketplace, the new CREST report explores good and bad practice to establish how to better understand bug bounty programmes and how they fit into the wider technical assurance framework. It also highlights the need to provide advice to buyers of bug bounty services and protect the interests of 'hunters' participating in programmes.
Bug bounties are becoming deeply embedded into the information security industry, with technology giants such as Microsoft, Google and IBM now running their own programmes. There is also a rise in big bounty platforms offering anything from a simple listing and introduction between hunter and organisation, to a fully-managed service, including the triage and reward processes. Adoption is increasing remarkably fast and expectations are that it will continue to do so for the foreseeable future.
"We need urgently to define the requirements around bug bounty programmes, so everyone knows what 'good' looks like, to protect researchers, organisations and the bug bounty platforms operators," said Ian Glover, President at CREST. "Organisations must carefully consider whether they are ready to run a bug bounty programme and give careful consideration to whether they run it internally or with the help of a specialist platform. With a lot of opportunities for bug bounties to go wrong, the maturity required to run a successful programme should not be underestimated."
"While it is largely agreed that regulation would be incredibly difficult to impose, there is a need to define best practice and reconsider codes of conducts," adds Glover. "We need to put measures in place to protect all parties involved in the bug bounty marketplace to avoid trouble ahead," he continued.
The CREST report is based on collaborative research including interviews and workshops with bug bounty stakeholders and participants. CREST is committed to building on the findings of this initial study to work towards an improved future for bug bounty hunters and programmes.
To view the report, please visit: https://www.crest-approved.org/bug-bounties-working-towards-a-fairer-and-safer-marketplace/index.html
About CREST
CREST is a not-for-profit accreditation and certification body representing the technical information security industry. CREST provides internationally recognised accreditations for organisations providing technical security services and professional level certifications for individuals providing penetration testing, cyber incident response, threat intelligence and security operations centre (SOC) services. CREST Member companies undergo regular and stringent assessment, whilst CREST certified individuals undertake rigorous examinations to demonstrate the highest levels of knowledge, skill and competence. To ensure currency of knowledge in fast changing technical security environments the certification process is repeated every three years.
CREST is governed by an elected Executive of experienced security professionals who also promote and develop awareness, ethics and standards within the cyber security industry. CREST supports its members and the wider information security industry by creating collaborative research material. This provides a strong voice for the industry, opportunities to share knowledge and delivers good practice guidance to the wider community.
For more information contact: Allie Andrews, allie.andrews@crest-approved.org, 07940 452710