NORWICH, UK, November 17th, 2016 - FXHOME (hitfilm.com) today released all-in-one video editing and visual effects software HitFilm Pro 2017 (hitfilm.com/pro), proving that professional grade post-production tools can be made accessible for everyone. With no subscription fees and a supportive community of over 750,000 filmmakers, HitFilm Pro 2017 offers power, choice and value for creators at every level.
It used to be difficult and time-consuming for filmmakers to create professional-level visual effects at home. Now the fastest growing video effects software in the world, HitFilm is the only video product to combine an editor, a compositor and a powerful 3D tool with over 500 visual effects and presets.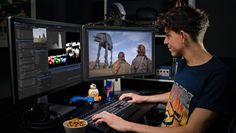 VFX artist
"HitFilm is about empowering filmmakers and giving them the tools they need to bring their ideas to life," says Josh Davies, Founder and CEO of HitFilm. "We're excited to share the brand new HitFilm Pro 2017 with our users. It is a massive upgrade which includes many highly requested features like Scopes, Action Cam support and hundreds of new presets. HitFilm is the best software for your next video project."
HitFilm Pro 2017's new features raise the bar for every type of filmmaker: from editors to visual effects artists, motion graphics artists to colorists. Now including upgraded 3D rendering, more visual effects, complete control over color grading with Scopes and HitFilm's new export queue for a faster workflow. New editing and audio tools including keyboard shortcuts and auto sync offer simple solutions, while an upgraded interface with 8K support and 32-bit floating color gives HitFilm's users cinema-level quality.
Visual effects are no longer restricted to traditional video in HitFilm Pro 2017 with next generation support given to 360° video with titles and lens distort for action cam footage. New partnerships bring Imagineer's mocha HitFilm plugin and Boris FX Title Studio to all HitFilm Pro 2017 users, with the upgraded Ignite Pro 2017 plugin collection adding new support for Avid Media Composer to turn any host into a powerful visual effects toolkit. Additional bundles with Red Giant Magic Bullet, iClone, NewBlue FX Amplify and ActionVFX are available on the HitFilm.com store, giving users more choice than ever before.
Top users of HitFilm have gone on to define the new generation of over 50 million online and independent creators. These include RocketJump co-founder and TV star Freddie Wong (rocketjump.com), indie filmmaking experts Film Riot and viral YouTube superstars Corridor Digital. Together they have over 3 billion views and have inspired countless numbers of creators to make their own content.
"They feel that helping future generations become masters of their craft is the right thing to do" - Dan Cooper, Engadget
"With this software, anyone can do Hollywood-style visual effects" - Joe Blevins, The AV club
*ENDS*
NOTES TO EDITORS
HitFilm Pro 2017 is available on the HitFilm store from the 17th November for $349. One license can be used simultaneously on three separate machines.
Minimum requirements are:
Apple Mac - OS X 10.10 Yosemite, 10.11 El Capitan or macOS 10.12 Sierra
Windows PC - 64 bit version of Windows 7, Windows 8 or Windows 10
ABOUT FXHOME, Makers of HitFilm
In 2011, Josh Davies set out on a mission to prove that professional grade post-production tools can be made available to everyone. The result was HitFilm, an all-in-one video editing and visual effects software – at a fraction of the cost of other industry standard tools.
Six years and 800,000 users later, HitFilm is one of the leading post-production software tools in the industry, offering software options for emerging and pro editors alike.
What started as a big idea on a little budget, has grown to a global movement of filmmakers who share HitFilm's vision for the future of video software. Together, we have not only built one of the best VFX and editing tools in the industry – but a community of artists who inspire and learn from each other.
For more information see hitfilm.com
Contact:
Kirstie Tostevin
Assistant Marketing Manager for FXHOME
E: kirstie.tostevin@fxhome.com
T: +44 (0)1603 518409