Lightweight, durable and feature rich radios for a wide range of roles including security, warehousing and residential
Slough, UK - 13 August 2015 - Hytera UK, the leading designer and manufacturer of professional wireless communications equipment has announced the UK availability of its series 4 PD405 and PD415 DMR radios. These radios offer a great range of features at excellent value for money, with no compromise on quality. They are easy to use and durable, rated to IP55 and IP54 respectively, both meeting MIL-STD 810 C/D/E/F/G standards.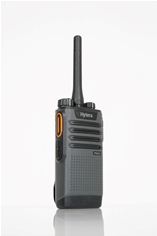 PD415 handset
Both the PD405 and PD415 are perfect for use in security, residential, hotel and warehousing environments, or for any company switching from analogue to digital, but still with a mixed infrastructure.
Both devices have the Analogue and Digital Mixed Channel feature. This allows handsets to detect both analogue and digital signals, automatically switching between the two modes to receive them on a single channel, replying to received calls whilst the talk back timer remains. Perfect for those wanting to get the most from the investment they have made in their radio infrastructure to date.
The PD415 Digital Patrol Radio, is perfect for industries such as security where the RFID tag has become a widespread ID token. The PD415's innovative embedded RFID tag can read tags and then transmit that information, making it the perfect choice for patrol guards, and can be fully integrated with the Hytera Patrol System - a real time tour guard solution. The RFID systems also has an open API allowing third party software developers to produce their own applications for the technology.
Both handsets include the following features:
A full range of voice call features including Private, Group and All call
Small, sleek and light design. Perfect for those on patrol, or needing to carry a radio at all times
Long life battery with 16hrs of life in digital mode under a 5-5-90 duty cycle @ 1500mAh
Pre-programmed text messages with support for one-touch text and voice messages
Dual Mode, supporting analogue and digital signals, with automatic switch over thanks to Analogue & Digital Mixed Channel feature
DMRA - Direct Mode TDMA (true 2-slot) supports two simultaneous voice calls on a single frequency
Voice Operated Transmit (VOX) - Allows the operator to trigger voice transmission by voice directly (no need to press the PTT button)
Both handsets are available now from Hytera UK dealers and you can learn more about Hytera products at www.hytera.co.uk. You can also visit these links to read the full specifications of the PD405 and PD415 DMR radios.
About Hytera Communications (UK)
Hytera Communications is the leading designer and manufacturer of professional wireless communications equipment. Hytera UK is a UK registered, wholly-owned subsidiary of Hytera Communications Co Ltd, founded in 2004. Located in Slough, Berkshire, Hytera has been dedicated to distributing analogue, DMR and Tetra radios for over 7 years. From the outset, Hytera UK has been committed to providing outstanding service and support to all partners and dealers. This has led to Hytera becoming one of the top radio providers worldwide.
Media contacts
Duncan Gurney
Ember Marketing
Duncan@embermarketing.com
+44 (0) 20 8398 5044