Leading renewable energy and infrastructure consultancy, Natural Power, has appointed Stephen Trotter as its new Managing Director. He will be based out of the company's Global HQ at The Greenhouse near Castle Douglas.
Stephen worked for ABB for almost 20 years, where he was Managing Director for the UK and Ireland Power Systems division. During his time at ABB he was involved in numerous onshore and offshore wind projects as well as interconnectors. His appointment follows the departure of Ted Leeming, who stepped down at the end of March.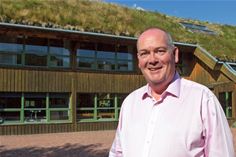 Stephen Trotter
Stephen joins the business as it embarks upon a new five year business cycle which is to focus on international growth in several key markets including the US, Ireland and France.
Key non-UK offerings include operational asset management and turbine servicing as well as traditional planning advice and construction management. In addition, Natural Power is targeting services for operational offshore wind farms in Europe and potentially the US. Meanwhile UK growth will be targeted through the diversification of existing services, rolling out a new offering for turbine servicing, operational plant with asset management and adding value to clients' portfolios through market leading analytics to improve performance and reliability.
On his appointment Stephen said: "I am excited to be joining a business with such a strong pedigree and identity in the renewables industry. Ted has done a fantastic job during his time as managing director providing the vision and driving the business forward with new offerings and services as the industry transitions towards a subsidy free future.
"The business continues to invest in innovation, with new offerings such as the Offshorewindspect, recently launched with our partners Fred. Olsen Windcarrier and SubC Partner, and in growing our global team of industry recognised experts, with the likes of Julius Carter, Christine Sutter and Christine Bordonaro joining our US team this year. The passion and commitment of the team to deliver for our customers is evident. Our strategy is to grow our business both internationally and in the UK through a continued focus on customer value through all stages of a projects."
Nick Emery, chairman of Natural Power commented: "We are delighted to welcome Stephen to Natural Power. He is a proven leader with a track record of growing a business. This, combined with his focus on customers and innovation, positions the business for continued success. At the same time, on behalf of the board and owners, I would like to thank Ted once again for his outstanding leadership of the business, transforming it from its initial formation through to the global business it is today."
About Stephen
Stephen has a degree in Electrical Engineering from the University of Southampton. He was a member of The Crown Estate Offshore Wind Programme Board as well as a number of other industry bodies including the CIGRE UK Exec and the Energy Research Partnership.
His experience covers construction, field service and consultancy across substation/grid connections, SCADA and control room operations and maintenance, FACTS / reactive power compensation, HVDC interconnectors and subsea cabling, asset management and network design, including integration of renewables and storage.
About Natural Power
Natural Power is a leading independent renewable energy and infrastructure consultancy employing 340 staff globally. The company offers proactive and integrated consultancy, management and due diligence services, backed by an innovative product range, across the onshore wind, offshore wind, wave, tidal, renewable heat, solar pv and hydro sectors, whilst maintaining a strong outlook on other new and emerging renewable energy sectors.
www.naturalpower.com
https://twitter.com/Natural_Power
https://www.linkedin.com/company/natural-power
ENDS
Contact details:
Jane Maher
PR and Media
Natural Power
T: 07887 995 589
E: janem@naturalpower.com
www.naturalpower.com https://twitter.com/Natural_Power