Mobile: The Great Connector Vol 2, offers guidance based on insights from top brand marketers and mobile experts across the mobile ecosystem.
Underlines the expanded role of mobile to enable immersive experiences and contextual advertising.
The free e-book is now available from the Mobile Marketing Association.
LONDON, U.K. AND COLOGNE, GERMANY – FEBRUARY 22, 2016 — The Mobile Marketing Association (MMA), the world's leading global non profit trade association focused on accelerating the transformation of marketing through mobile, along with MobileGroove, a top 50 ranked destination providing analysis, custom research and strategic content marketing to the global mobile industry, today announced the availability of a new eBook to help brands, businesses and organisations harness mobile and mobile data to create contextual relevance in their marketing, advertising and interactions with customers. Mobile: The Great Connector Vol2 is a joint collaboration between the MMA, MobileGroove, Inspired Mobile and Brainstorm .The ebook will be featured at Mobile World Congress (MWC) 2016 this week in Barcelona, Spain.
The free eBook provides brands and businesses with clear direction and actionable insights around how mobile is paving the way for new marketing approaches and blurring the boundaries to bridge the digital and physical worlds. Researched and written by Peggy Anne Salz, author, analyst and mobile authority of MobileGroove, the eBook compiles insights from top marketing executives at leading brands including Unilever and Hotels.com, as well as examples of award-winning mobile campaigns, to identify best practices and key lessons around how data, location and context are combining to enhance the entire marketing cycle.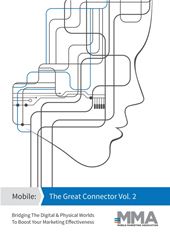 Mobile The Great Connector eBook
"Mobile is no longer a channel; it's a behaviour," observes Pratick Thakrar, founder of Inspired Mobile, a leading omni-channel campaign management platform that ensures businesses of all sizes are able to conduct quality marketing on a global scale. "The role of mobile as a 'connector' creates the requirement for brands to view customers holistically and contextually, and further amplifies the need for a single source data platform to engage the customer as an individual, not as a generic audience segment, to ensure personal and relevant content experiences are sent to the customer when they want."
"A seismic shift in our collective behavior is underway — because we instinctively reach to our devices to interface with the real world around us — that effectively endows mobile with an exciting new capability: the ability to bridge the digital and physical realms to influence and trigger activities in the real world conversions, interactions and other 'calls-to-action'," Salz explains. "The real opportunities come when brands and businesses begun to understand how the Internet of Things fits into the customer-brand communications paradigm."
"Mobile has been called the 'new shop window' because it's where intent and decisions meet," observes Chris Babayode, Managing Director of MMA EMEA. "More importantly, mobile has an exciting new capability of the complete customer experience — and across all verticals — because it sits at the intersection of our digital and physical worlds, allowing marketers that grasp this opportunity to drive positive results for their existing and new customers."
"At first, so-called static data — household data, data stored in CRM systems and data gathered via cookies during PC browsing and buying sessions —helped marketers understand their customers better. Today mobile takes this to a new level, empowering marketers to build more dynamic and holistic audiences and so meet growing consumer demand for personal, relevant and valuable content, marketing, advertising and assistance — where, when and how they want it most," observes Daniel Rieber, vice chair board member of the new MMA Germany chapter launching at MWC, and VP Marketing at adsquare, a company providing an audience management platform for mobile programmatic advertising.
ABOUT MOBILE: THE GREAT CONNECTOR VOL2
Mobile: The Great Connector draws from the vast experience of its author and the insights of sponsors, partners and mobile marketing practitioners including: Daniel Craig, Sr. Director, Mobile & Social for the Hotels.com brand; David Skerrett, managing partner with digital agency Nimbletank; Fergal Walker, co-founder and CEO of Quikkly; Jessica Groopman, industry analyst with Harbor Research; Khurram Hamid, Global Head of eCommerce and Media Innovation at GlaxoSmithKline; Mada Saghete, founder of Branch Metrics; Mickey McManus, President, CEO, and principal of MAYA Design; Paul O'Grady, Unilever Senior Communications Planning Manager; Pratick Thakrar, founder of leading omni-channel marketing platform Inspired; Rob Define, Vice President of Mobile & Product at ebookers; Theo Theodorou, General Manager of xAd EMEA; Tom Laband, CEO of adsquare; mobile consultant Tomi Ahonen; and Yaron Assabi, founder of Digital Solutions.
For more information, or to download the free eBook, please visit http://www.mmaglobal.com/documents/mobile-great-connector-volume-2
ABOUT MMA
The MMA is the world's leading global non-profit trade mobile marketing association comprised of more than 800 member companies, from nearly fifty countries around the world. Our members hail from every faction of the mobile marketing ecosystem including brand marketers, agencies, mobile technology platforms, media companies, operators, and others. The MMA's mission is to accelerate the transformation and innovation of marketing through mobile, driving business growth with closer and stronger consumer engagement. Anchoring the MMA's mission are four core pillars; to cultivate inspiration by driving the innovation for the Chief Marketing Officer; to build the mobile marketing capabilities for the marketing organizations through fostering know-how and confidence; to champion the effectiveness and impact of mobile through research providing tangible ROI measurement; and advocacy. Additionally MMA industry-wide committees work collaboratively to develop and advocate global best practices and lead standards development.
For more information about the MMA please visit http://www.mmaglobal.com/
ABOUT INSPIRED MOBILE
Inspired Mobile is one of 11 mobile partners to Google's DFP, a leading omni-channel campaign management platform that ensures businesses of all sizes are able to conduct quality marketing on a global scale and engage their customers at an affordable rate, conceivably without the need of an agency. Having been awarded Best Media Solution by Boris Johnson during his last Singapore Trade Mission Inspired Mobile's self-service platform is set to truly revolutionise the global SME market by offering clients simpler means to brand themselves, 2D & 1D barcodes, website development (mobile, tablet and desktop), rich media ad creation, proximity marketing (Wi-Fi), CRM, email & SMS, NFC, research studies, drive app downloads, and much more linked to an impressive creative studio. Inspired currently has offices in London, Athens, New York and Singapore.
For more information about Inspired Mobile please visit https://www.inspired-mobile.com/
ABOUT BRAINSTORM
Based in London and with a worldwide footprint, Brainstorm is a global provider of mobile engagement solutions. We help businesses increase revenue, reach, and operational efficiency by encouraging them to think differently about mobile and how it can work strategically and tactically across an entire business as a productivity and engagement tool. Using a combination of strategic consultancy, superior technology and mobile expertise, our solutions ensure you give your customers and staff a personalised and connected experience across all of their touchpoints to your business, whilst driving efficiency into workflow and operations.
For more information please visit http://www.brainstorm.co.uk/home/
ABOUT PEGGY ANNE SALZ
Peggy Anne Salz, named a Top 30 Mobile Marketing Influencer, is the chief analyst and founder of MobileGroove, a top 50 ranked destination providing analysis, custom research and strategic content marketing to the global mobile industry, and mentoring and consulting to tech startups. Peggy is also a VentureBeat mobile analyst, frequent Forbes contributor and guest contributor for a variety of leading media outlets, including the Harvard Business Review, where she shares her insights on mobile marketing, mobile apps, customer engagement and business innovation. She has written 300+ articles on mobile marketing, mobile search, social media and mobile industry news and developments, and nine books about mobile, both as a lead author and in partnership with global companies including Gemalto, InMobi, SAP Mobile Services and the Mobile Marketing Association.
For more information please visit http://www.mobilegroove.com/
Contact:
Peggy Anne Salz
MobileGroove
M +49 172 2451028
@peggyanne
###