'Mushrooms & Toadstools UK' is a new iOS app for the identification of wild fungi in Britain. Despite the number of apps available, this is the only fungus app dedicated to British fungi, using the recognised English names. The release has been timed to coincide with peak mushroom season.
The app has been developed by British nature app specialists, iSpiny. The app's main developer, Dr Hilary Lind, explains the idea behind the app: "At this time of year, mushrooms and toadstools are popping up everywhere. You don't need to go on a Fungus Foray to find them, just keep an eye on the side of the road, on the way to school, in the park or in the garden."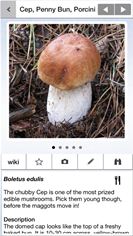 Penny Bun or Cep
Dr Lind continues: "Identifying mushrooms and toadstools is tricky as they vary so much in appearance. It is best to use an app that only includes British fungi, and one that uses the correct British English names. Our app uses the accepted names from the British Mycological Society so that you know exactly what species you are dealing with."
The first question most people ask when they find a wild mushroom is whether it is edible. Many are, but the risk of confusion with poisonous species is great and the app developers emphasise that no wild fungus should ever be eaten unless the identification has been checked by an expert.
Up to now, most mushroom apps have been developed in Germany or Scandinavia, where mushroom collecting is much more a regular part of life. The iSpiny app aims to popularise mushroom hunting as a hobby in the UK and has kept the app as simple to use as possible. As with other apps in the iSpiny range, it includes an identifier where the user enters simple features such as size and colour to identify the fungus, and features for recording and sharing findings.
'Mushrooms & Toadstools UK' is currently available from the iTunes App Store for a promotional price of 89p, before increasing to its regular price of £2.29.
- Ends -
Notes to Editors
For further information or for a promo code please contact Dr Hilary Lind: spiny@spinysoftware.com
Phone: 07773003684
Twitter: @iSpiny
Facebook: www.facebook.com/ispinynatureguides
App Store link
http://www.spinysoftware.com/
Hi-res images
About iSpiny
We are a small team of scientists and computer scientists dedicated to making high quality, authoritative software. 'Chirp! Birdsongs' was our first app, released in 2008, and it has been in Apple's bestselling charts since launch. We have since developed a range of nature apps for Europe and North America, including the automatic bird song identifier ChirpOMatic. Our apps have been included in Apple promotions on numerous occasions, and have featured on their website.
The business is based in Cardiff and Oxford, UK.