Searchmetrics Study finds 27% of finance-related Google searches trigger Direct Answers boxes, giving finance brands a valuable branding and traffic opportunity
San Mateo, July 31, 2018 ‒ Financial services companies looking to boost their online brand and traffic should focus on winning the prime place in Google search results called Direct Answers, new research from SEO and content marketing firm Searchmetrics reveals. Brands such as Bankrate.com, Investopedia.com and Wellsfargo.com are already successfully doing this.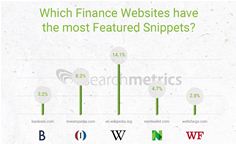 Which Finance brands appear most in Google Featured Snippets aka Direct Answers
"Often called 'position zero' because they appear above the No. 1 organic search listing and are increasingly the only answer highlighted in voice search queries, Direct Answers can help companies fend off competition as organic search real estate on the first results page continues to shrink with Google's changes," said Cliff Edwards, director of marketing & communications at Searchmetrics.
Per the study, which analyzed 25,000 US search results, Direct Answers (also known as Featured Snippets) show up in more than a quarter (27%) of finance-related searches, providing immediate answers to search queries. By comparison, they appear in 18% of health-related searches and less than 3% of ecommerce, travel and media searches.
Content from Wikipedia, a site that is highly trusted by Google, features most frequently in Direct Answers - making it into 14.1% of Direct Answers boxes shown for finance searches. However, several financial services brands also appear regularly, with Investopedia.com featuring in 8.2% of finance-related Direct Answers, followed by Nerdwallet.com (4.7%), Bankrate.com (3.2%) and Wellsfargo.com (2.8%).
On average, finance websites can attract around 2,622 clicks per month by appearing in a Direct Answers box, according to the data. And if the brands were to pay for those clicks using Google Adwords pay-per-click (PPC) advertising, they would need to spend around $5.17 per click.
There are even indications that appearing in Direct Answers could help brands win in voice search on smart speakers. Google Home, for example, only reads out one answer to a question – and this is usually the result that features as a Direct Answer in the search results.
"For complex topics such as financial services and health, consumers are likely to have a lot of questions – which may explain why Google seems to include Direct Answers boxes more frequently for these areas in search results," said Edwards. "But across all sectors, Direct Answers provide an excellent opportunity for a company to increase visibility in searches while driving click-throughs and engagement."
Brands that want to target Direct Answers need to start by building a good understanding of the common questions that consumers are asking in their industry and to create high quality content that answers them according to Edwards.
"There's no magic formula to get your site appearing in Direct Answers. To increase your chances, your content has to be very clear and easy to understand, with a well-ordered structure using short paragraphs, bullets or tables, for example, along with correct technical optimization of your web pages. And your website content also has to demonstrate to Google that it's an authority for the topics you're targeting."
More findings from the Searchmetrics' research can be found in two infographics ' 'The Battle for Position Zero: Featured Snippets in the Finance Industry' and 'The Battle for Position Zero: Featured Snippets in the Health Industry'. There is also a Searchmetrics blog post that provides an overview of the main findings:
https://blog.searchmetrics.com/us/2018/07/31/featured-snippets-battle-for-position-zero/?utm_source=PR&utm_medium=external+media&utm_campaign=2018%2F07-EN-Blog-Featured-Snippets
About the study
Searchmetrics analysed 25,000 Google.com (US) desktop search results across five different vertical sectors (finance, health, retail, travel and media) identifying how frequently Direct Answers (featured snippets) appear and related metrics.
About Searchmetrics
We help you attract an online audience and boost results with content that uniquely matches user intent. Using the deep learning insights of the Searchmetrics Suite and Searchmetrics Content Experience platform, we navigate the shifting priorities of search engines and help you outrank your competition. Search has evolved into a data-driven field that requires powerful software to guide companies through discovery, briefing, optimization and measurement of engaging storytelling.
There's only one platform that owns its data: Searchmetrics, the world's #1 Search and Content Marketing Platform. We don't rely on data from third parties and we've been studying search and content trends since 2005 − compiling the industry's largest global and historical database.
Searchmetrics uncovers the opportunities and pitfalls of online marketing. Our award-winning Searchmetrics products bring search engine optimization and content creation together for the first time, offering marketers an ultimate platform for creating the moments that shape customers' decisions and brand preferences. We offer competitive insights and hands-on consulting to help our customers create predictable returns in earned media. Our SEO Visibility Score − trusted by reputable media sources such as The New York Times, Bloomberg and The Guardian − reliably gauges your online presence. Searchmetrics reveals the connection between social media links and overall engagement, and its analytics make clear which content performs best.
Marcus Tober, one of the top 10 SEO minds in the world, leads Searchmetrics' product development, driving innovations for more than a decade that improve results for content marketers. We have over 100,000 users worldwide, including respected brands such as T-Mobile, eBay and Siemens.
More information: www.searchmetrics.com.
Media Contact
Uday Radia
CloudNine PR Agency
uradia@cloudninepr.com
+44 (0)7940 584161