High Wycombe, UK, 12 December 2019 Star Micronics, a leading manufacturer of packaged and modular specialist kiosk printing solutions, announces the latest additions to its range of Sanei SK1 kiosk printers, the SK1-211/221 and SK1-311/321 series, as well as the new low cost SK4-21 and SK4-31. These printers enhance Star's wide selection of highly compact Sanei open frame printers for limited space enclosures.
The Sanei lightweight open frame solutions feature a variety of print widths and print speeds. The new 58mm SK4-21 and 80mm SK4-31 offer a low cost slimline printer that is ideal for hospitality applications including take away ordering, while the SK1-211/221 and SK1-311/321 series benefit from extra bezel and presenter options as well as high print speed.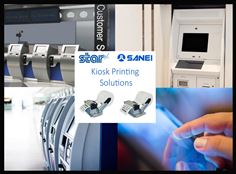 New Sanei kiosk printers from Star Micronics
The SK1-211/221 and SK1-311/321 series now support StarPRNT Emulation as well as ESC/POS. These printers therefore benefit from Star's Advanced Android SDK and Windows Printer Software utility which have been specially created for the Sanei range and offer direct cable printing support for low cost compact tablet-based kiosks. Furthermore, the SK1-211/221 and SK1-311/321 series can be configured in the same way as Star's range of kiosk and desktop printers, thus providing maximum flexibility in kiosk design.
Benefitting from an extended paper cutter life (2 million cuts), 250mm/sec. print speed and easy paper loading, the SK1-211/221 and SK1-311/321 series additionally feature an LED presenter and anti-paper jam bezel. With the same outer dimensions and variety of install positions as the SK1-21 and SK1-31, the new Sanei printers also offer USB and serial interfaces within a compact footprint.
"In response to the growing need for compact printer mechanisms to meet the current trend of slim, space-saving kiosks, Star has been at the forefront of developments in this area," states Simon Martin, Director & General Manager, Star Micronics EMEA. "Offering the new Sanei SK1-211/221 and SK1-311/321 series with StarPRNT Emulation demonstrates Star's commitment to providing a range of solutions with exceptional functionality alongside greater ease of configuration and maximum flexibility in kiosk design."
Background Information on Star Micronics
Founded in 1947, Star Micronics is one of the world's largest printer manufacturers and has facilities for worldwide production, marketing and support. Employing over 1900 staff and achieving turnover in excess of £250 million, Star Micronics has developed a POS printer portfolio that spans thermal and dot matrix printers and mechanisms, designed for printing barcodes, ticketing, receipts and labelling. Star's proven technology is also being utilised to install print mechanisms in multimedia kiosk environments. The Star Micronics' range is available internationally via a distribution channel comprising distributors and dealers.
-oOo-
For further information, please visit www.Star-EMEA.com or contact:
Claire Smith
PR Manager
Star Micronics EMEA
Tel: +44 (0)1494 471111
Email: Csmith@Star-EMEA.com