Combined insights from Google Lighthouse and Searchmetrics
Using each customer's keywords to compare search performance in individual market against thousands of direct competitors

San Mateo, March 20, 2019 ‒ Searchmetrics is combining insights from Google Lighthouse with its own extensive search data to give SEO professionals a fully-customized, comprehensive report highlighting the Google ranking factors that matter most to their specific market. Each Lighthouse Ranking Factors report comes complete with concrete recommendations for improving search performance based on an analysis of how a site compares with top ranking competitors.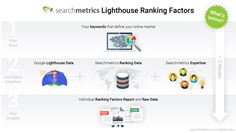 New Searchmetrics Lighthouse Ranking Factors reports deliver custom insights to drive search success
"This is so much more than just a simple SEO audit for your website," explains Jordan Koene, CEO of Searchmetrics Inc.. "We take your keyword list and use Google's Lighthouse data − integrated with our data − to come up with an in-depth analysis of Lighthouse ranking factors and issues that are critical for your market. This helps us pinpoint a list of tailored recommendations to help you outperform your competition."
To compile the reports Searchmetrics first evaluates each customer's web pages using the Google Lighthouse open source tool. This provides real-time metrics and insights in areas such as technical performance (including speed-related factors), accessibility and SEO performance.
To this Searchmetrics adds in-depth analysis drawn from its own ranking factors data, courtesy of its continuously updated global search database. Using each customer's unique keyword set, the company generates a detailed breakdown of how the customer's website performs against thousands of others. What are the most important ranking factors in that market segment? How does the customer's site rate in those areas? And how can it improve?
After having pulled the Lighthouse data and combined it with Searchmetrics ranking data, the results are interpreted and analyzed by search and digital marketing experts from the Searchmetrics Digital Strategies Group. They clearly explain the metrics, filter the most relevant factors and outline the key steps that will drive improvements.
"Aimed at in-house SEO teams and agency professionals, Lighthouse Ranking Factors reports take the time and effort out of the data collection and analysis that is now essential for developing a next-generation search strategy and metrics," explains Jordan. "Our experts sift through the data, identify the specific ranking factors that are important to the market you want to address and give you a check-list of key steps that your team can start working on right away."
Customers are required to provide a list of up to 1,000 top keywords that defines their market. Searchmetrics will gather the data, perform an in-depth analysis and provide a comprehensive report detailing key metrics, insights and recommendations, complete with a management summary.
For more information visit: https://www.searchmetrics.com/lighthouse?utm_source=PR&utm_medium=external-media&utm_campaign=2019-03-lighthouse-ranking-factors-en
About Searchmetrics
We help you attract an online audience and boost results with content that uniquely matches user intent. Using the deep learning insights of the Searchmetrics Suite and Searchmetrics Content Experience platform, we navigate the shifting priorities of search engines and help you outrank your competition. Search has evolved into a data-driven field that requires powerful software to guide companies through discovery, briefing, optimization and measurement of engaging storytelling.
There's only one platform that owns its data: Searchmetrics, the world's #1 Search and Content Marketing Platform. We don't rely on data from third parties and we've been studying search and content trends since 2005 − compiling the industry's largest global and historical database.
Searchmetrics uncovers the opportunities and pitfalls of online marketing. Our award-winning Searchmetrics products bring search engine optimization and content creation together for the first time, offering marketers an ultimate platform for creating the moments that shape customers' decisions and brand preferences. We offer competitive insights and hands-on consulting to help our customers create predictable returns in earned media. Our SEO Visibility Score − trusted by reputable media sources such as The New York Times, Bloomberg and The Guardian − reliably gauges your online presence. Searchmetrics reveals the connection between social media links and overall engagement, and its analytics make clear which content performs best.
Marcus Tober, one of the top 10 SEO minds in the world, leads Searchmetrics' product development, driving innovations for more than a decade that improve results for content marketers. We have over 100,000 users worldwide, including respected brands such as T-Mobile, eBay and Siemens.
More information: www.searchmetrics.com.
Media Contact
Uday Radia
CloudNine PR Agency
uradia@cloudninepr.com
+44 (0)7940 584161