Fewer traditional links on page one means mobile marketers must target Google's universal search boxes including videos, knowledge graphs, direct answers and app suggestions
San Mateo, March 20, 2018 ‒ Online marketers seeking to follow their customers from desktop to mobile through organic search find fewer opportunities to build their brands and grow revenue as Google's evolving first page challenges them to feature in search via voice, direct answers, apps, videos and a growing list of newer universal search boxes, a new Searchmetrics' study finds.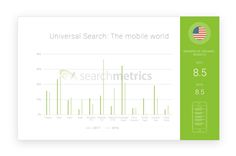 How Google's Page One Is Evolving on Mobile: Universal Search Trends
From relevant videos, images and news results, to flight information, stock updates, and even song lyrics, Google now integrates hundreds of different box-outs on its first page to help direct searchers to the answers they are looking for.
On a small mobile screen, these integrations stand out even more, generating high click-throughs and presenting a valuable branding and traffic opportunity that marketers should include in their mobile search and content strategies.
"Any online business looking at search traffic should make optimizing for key universal search integrations an important part of its mobile strategy," said Marcus Tober, CTO and founder of Searchmetrics. "That's because the organic traffic that comes from the 'classic ten blue links' in the search results continues to fall – in mobile, for instance, there are just 8.5 links on page one. And the large number of integration boxes Google now includes, coupled with the smaller mobile screen size, means that searchers have to actively scroll down – often several times - to even see the traditional organic results placed lower on the page."
The new Searchmetrics study 'Universal Search 2018: It's a Mobile World After All' analyzed page one results on Google.com for half a million search queries to identify the most frequently occurring universal search integrations.
Here are six key learnings from the study that can inform mobile marketing strategies:
1. Direct Answers help you win on mobile – and also in voice search
4% of mobile searches now feature a direct answers box, which Google shows when a searcher is obviously looking for an answer to a specific question such as 'Flu symptoms' or 'How to plant roses'. They appear high on the mobile screen, usually before scrolling and - as well as being great for mobile branding and traffic - they could help brands win in voice search on smart speakers. Google Home, for example, only reads out one answer to a question – and this is usually the result that features as a direct answer in search results.
Information in direct answer boxes usually comes from sites with high authority, with clear well-ordered content structured using specific web code that helps Google's crawlers to understand it.
2. Get more app installs via App suggestions on Google
Google shows app suggestion boxes in 11% of mobile searches - usually when search queries relate to tasks or activities that can be supported by apps, such as 'dating', 'banking' and 'music'. Clicking on a suggested app takes the searcher to the download store to install the app. Suggested apps are device-specific – so android apps only appear on android phones for example. And marketers can increase the chances of being included by writing highly relevant titles and descriptions for their apps on the app store and encouraging positive reviews.
3. Knowledge Graphs: a branding opportunity for well-known organizations
The Knowledge Graph boxes now appear in nearly every third mobile search result (32%). They usually feature above the fold and include brief descriptions, images and relevant links when searchers are looking for a known brand, organization, place or person (whether they are current, historical or fictional entities). For brand marketers it is important to remember that Google pulls text and images for Knowledge Graphs from relevant trustworthy sites, mostly Wikipedia, while contact details and links to a company's own social media handles can sometimes be included.
4. Engage searchers through Video boxes from your YouTube channel
16% of searches on mobile trigger at least one videos integration on the first page and the share of video from YouTube in them has risen from 90% to 92% since 2016. Upload videos to YouTube – and optimize by using the right keywords and phrases in titles and descriptions. Including subtitles – which give Google a much better understanding of the content in the video - can also help. And Google is also more likely to display videos that show positive engagement such as likes and comments.
5. Fast-loading Accelerated Mobile Pages likely to see wider adoption
Accelerated Mobile Pages (AMP)[1], which are optimized to load faster on mobile phones, now appear in 21% of all organic results. The universal search integration with the most AMP pages are news boxes (78%). Non-news websites including ecommerce sites are starting to adopt AMP and Google's Speed Update, which makes speed a ranking factor in mobile results, is likely to spark wider interest from brands that want to make it part of their mobile marketing strategies.
6. AdWords ads appear for more than one out of ten searches
Google AdWords ads appear in more than one out of ten (12%) page one results usually above the organic results. While the number of keywords for which ads appear has actually halved overall since 2016, this may actually be a sign that ads are better targeted at more relevant queries that indicate purchase intent.
The Searchmetrics study, Universal Search 2018: It's a Mobile World After All, can be downloaded from: https://www.searchmetrics.com/knowledge-base/universal-search-study/?utm_source=PR&utm_medium=external+media&utm_campaign=2018%2F03-EN-Study-Universal-Search
[1] The Accelerated Mobile Pages, is the brainchild of Google, Twitter and other tech giants. It is a set of open-source standards that enable the creation of web pages that load faster than traditional web pages for mobile devices.
-Ends-
About the study
This study was based on the analysis of the page one search results on both mobile (phone) and desktop for approximately 500,000 general, frequently 'googled' keyword on Google.com. Data was collected every month throughout 2017.
About Searchmetrics
We are your pathfinder to content that uniquely matches user intent with the deep learning insights of the Searchmetrics Suite™ and Searchmetrics Content Experience platforms. Search has evolved into a data-driven field that requires powerful tools to guide companies through discovery, optimization and measurement of engaging storytelling.
There's only one search and content development platform that owns its data: Searchmetrics, the world's #1 SEO and content performance platform. We don't rely on data from third parties. Our historical database spans five years and contains over 250 billion pieces of information, such as keyword rankings, search terms, social links and backlinks. It includes global, mobile and local data covering organic and paid search, as well as social media. We have the largest global reach of any search platform, crawling the web every day in more than 130 countries.
Searchmetrics monitors and reveals the full business available to you online. We provide our customers with a competitive advantage and help them to identify new business opportunities by exposing the content consumers are engaging with on industry and competitors' sites. Our SEO Visibility Score − trusted by reputable media sources such as The New York Times, Bloomberg and The Guardian − reliably indicates your online presence.
We provide the insights our customers need to deliver results. Searchmetrics guides SEOs and content marketers with suggestions for creating content that improves relevance and boosts conversions. It shows the connection between social media links and overall engagement. And its analytics make clear which content performs the best and how an organization's content performs against its competitors'.
With Marcus Tober, one of the top 10 SEO minds in the world, leading Searchmetrics' product development, we have over 100,000 users worldwide, many of whom are respected brands such as T-Mobile, eBay and Siemens. They all depend on Searchmetrics and our 12 years of product innovation to maximize their online performance.
More information: www.searchmetrics.com.
Media Contact
Uday Radia
CloudNine PR Agency
uradia@cloudninepr.com
+44 (0)7940 584161