… And fast-loading AMP results now appear in over half of ecommerce, travel and finance related searches
San Mateo, June 28, 2018 ‒ Ahead of the rollout of Google's mobile "Speed Update" in July 2018, a new study by Searchmetrics suggests that marketers should take note that faster-loading pages already are deciding winners over losers in mobile searches. The search results appearing in Google positions one to five load significantly faster than those lower down, with almost a third (32%) loading within one second. And pages using Google's faster loading Accelerated Mobile Pages (AMP)[1] appear in the first search results page for around 61% of searches.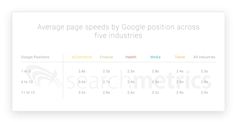 Average page speeds by Google position across five industries (table 1)
The Speed Update makes page load speed a factor that Google will consider when determining mobile search rankings. This is significant because speed has a big influence on whether web visitors stay on a site − with Google's own research suggesting that the probability of someone bouncing away from a page increases by 32% as page speed increases from one second to three seconds. Some 53% of mobile site visitors are likely to leave a page that takes longer than three seconds to load.
To test how speed varies across Google's search results, Searchmetrics' white paper 'Mobile Speed Study 2018' analyzed the load speed of pages appearing in thousands of organic mobile search results ranking in positions one to 15. The biggest correlation between page speed and how pages rank was found in the top five results – the higher the ranking, the faster the average page speed.
Overall, the research indicates that average load time for pages ranked one to 15 is less than 3 seconds (see table 1). And across all industries (based on analyzing vertical-specific search results in five sectors) pages ranking in the top five positions are faster on average than those from positions six to 15. There are some differences between verticals, however, with pages displayed for ecommerce and media related searches tending to load a little slower than average.
Cliff Edwards, Director Marketing & Communications of Searchmetrics said: "The research suggests there is already some correlation between page speed and mobile rankings − and Google's Speed Update is only going to make this stronger. So webmasters need to be continually testing and finding ways to optimize their web pages for speed. Overall this is going to mean plenty of work for many sites as even in the top five positions 32% of search results took longer than three seconds to load."
The growth of AMP in search results
In addition to page speed, the Searchmetrics study analyzed the growth within search results of AMP, which is a framework originally introduced to help news and media sites create web pages that load faster on mobile phones. While Google has stated that using AMP does not provide a rankings boost, content on AMP-enabled pages loads extremely quickly, delivering a superior user experience − which may be a reason why its use is spreading beyond news and media.
According to the analysis, at least one AMP-enabled listing appears on the first page in 61% of searches. And on average, when AMP appears, there are 4.3 AMP-enabled pages listed in all page one search results − whether that is within traditional organic results, 'top stories', carousels from a single publisher or mixed carousels.
The research suggests 87% of media related searches now show at least on AMP-enabled result on the first page (see table 2). However, the same is also true for 67% of finance searches, 59% of eCommerce searches and 56% of travel searches.
"While AMP content most commonly appears in topical news and media related searches – for which it was originally intended − it is also now seen in over half of the first page results in finance, ecommerce and travel searches. So there is evidence that some non-media sites are starting to take advantage of the user experience and speed benefits of AMP," said Cliff Edwards.
Overall the findings of the Searchmetrics' Mobile Speed Study 2018 reminds website owners and online marketers of the increasing influence of speed within Google's mobile search results. The full study can be downloaded at: https://www.searchmetrics.com/knowledge-base/mobile-speed-2018/?utm_source=PR&utm_medium=external+media&utm_campaign=2018%2F06-EN-Whitepaper-Mobile-Speed
[1] The Accelerated Mobile Pages, is the brainchild of Google, Twitter and other tech giants. It is a set of open-source standards that enable the creation of web pages that load faster than traditional web pages for mobile devices.
About the study
The research analyzed search results on Google.com for thousands of keywords to identify the following
the page load speed of results that rank between positions 1 and 15
the appearances of Google AMP-enabled pages appearing on the first results page
Further analysis was conducted to compare the page load speed and appearance of Google-AMP enabled pages in the search results for five different industry verticals (finance, eCommerce, travel, media and medical). This analysis was based on examining search results sector-specific keyword sets for each vertical sector.
Page load speed was measured using a stable high-speed connection where load time is defined as the time from sending the first request to the completion of the Document Object Model (domComplete).
About Searchmetrics
We help you attract an online audience and boost results with content that uniquely matches user intent. Using the deep learning insights of the Searchmetrics Suite and Searchmetrics Content Experience platform, we navigate the shifting priorities of search engines and help you outrank your competition. Search has evolved into a data-driven field that requires powerful software to guide companies through discovery, briefing, optimization and measurement of engaging storytelling.
There's only one platform that owns its data: Searchmetrics, the world's #1 Search and Content Marketing Platform. We don't rely on data from third parties and we've been studying search and content trends since 2005 − compiling the industry's largest global and historical database.
Searchmetrics uncovers the opportunities and pitfalls of online marketing. Our award-winning Searchmetrics products bring search engine optimization and content creation together for the first time, offering marketers an ultimate platform for creating the moments that shape customers' decisions and brand preferences. We offer competitive insights and hands-on consulting to help our customers create predictable returns in earned media. Our SEO Visibility Score − trusted by reputable media sources such as The New York Times, Bloomberg and The Guardian − reliably gauges your online presence. Searchmetrics reveals the connection between social media links and overall engagement, and its analytics make clear which content performs best.
Marcus Tober, one of the top 10 SEO minds in the world, leads Searchmetrics' product development, driving innovations for more than a decade that improve results for content marketers. We have over 100,000 users worldwide, including respected brands such as T-Mobile, eBay and Siemens.
More information: www.searchmetrics.com.
Media Contact
Uday Radia
CloudNine PR Agency
uradia@cloudninepr.com
+44 (0)7940 584161