Saïd Business School, University of Oxford
The role of reputation in a post-truth world, how shattered reputations can sometimes be rebuilt, and how President Trump's dual reputations - as a chivalrous, polite, respectful leader on the one hand, and misogynist, bullying, irrational man on the other - were manipulated and used on both sides during his election campaign, are among the issues explored in a new book by Oxford academic Rupert Younger.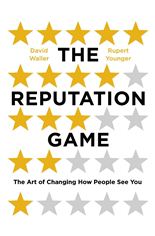 The Reputation Game
'Reputation relies on perception to signpost truth and in the days of social media and digital footprints this becomes even more significant,' said Younger, Director of the Centre for Corporate Reputation at Saïd Business School, University of Oxford. 'Reputation is what other people are saying about us - and, in this 'post-fact' or 'post-truth' world, this is not what you really are, but what others perceive you to be.'
In 'The Reputation Game: The Art of Changing How People See You' (OneWorld), Younger and his co-author David Waller, a partner in a global consulting firm and former journalist, explore the secrets of how reputations are made, built, destroyed, and managed.
Drawing on academic research, and featuring case studies and interviews with the famous and infamous, including Jay-Z, Simon Cowell, Bernie Madoff, Dennis Kozlowski and Hilary Mantel, the authors reveal the mechanisms and rules that underpin the reputation 'game'.
A key concept in the book is that we all have multiple reputations for something, with someone. This explains why, for example, even after the high-profile 'emissions scandal', Volkswagen's cars still sold as well as ever. 'The emissions scandal dented VW's character reputation, but not its capability reputation,' said Younger: 'it didn't affect our perception that VW's cars are high-quality and safe.'
It also explains why Donald Trump's election as US president took the political establishment by surprise. Thanks to his appearance on reality TV shows he had a positive reputation amongst many parts of the electorate - he was what a successful businessman looked like (capability). At the same time, he played on their perceptions of Washington politicians and the 'elite' and positioned himself as the campaigning outsider (character). It was clearly enough to ensure that they overlooked his character reputation elsewhere.
'Understanding the rules of the reputation game means that we can see how some individuals are able to rebuild shattered reputations while others never recover; why some organisations achieve the reputations they deserve and some don't; and why some industries are pariahs while others benefit from a halo effect,' said Younger. 'With this book we aim to explain how the game works and how to build winning strategies, starting by asking the right questions about the kind of reputation you want, for what, and with whom.'
For more information or to speak to Rupert Younger please contact the press office:
Josie Powell, PR Manager, Saïd Business School
Mobile: +44 (0)7711 387215 Tel: +44 (0) 1865 288403
Email: josie.powell@sbs.ox.ac.uk or pressoffice@sbs.ox.ac.uk
Notes to editors
About Saïd Business School
Saïd Business School at the University of Oxford blends the best of new and old. We are a vibrant and innovative business school, but yet deeply embedded in an 800 year old world-class university. We create programmes and ideas that have global impact. We educate people for successful business careers, and as a community seek to tackle world-scale problems. We deliver cutting-edge programmes and ground-breaking research that transform individuals, organisations, business practice, and society. We seek to be a world-class business school community, embedded in a world-class University, tackling world-scale problems.
About the Oxford Centre for Corporate Reputation
The Centre for Corporate Reputation is an independent research centre within Oxford University's Saïd Business School. We aim to understand how the reputations of corporations and institutions are created, sustained, enhanced, destroyed and rehabilitated. Our teaching is underpinned by academic research but includes contributions from leading figures in the business world. It spans the MBA curriculum as well as contributing to the Corporate Reputation and Executive Leadership Programme.
ENDS