80% of most common type of colour-blind viewers prefer new accessibility technology with dynamic adjustment, no impact on enjoyment for colour normal viewers
London and Cambridge, UK, 13th October 2015, A new research trial shows that a clear majority of "deutans", the most common type of colour-blind people, prefer watching TV content that has been enhanced with Spectral Edge's Eyeteq accessibility technology.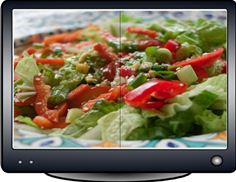 Spectral Edge TV
8 out of 10 preferred the Eyeteq treated video relative to untreated video on the calibration trials, and up to 73% preferred Eyeteq on the critical test videos. The independent study, carried out by i2 Media Research, also found that almost all participants (93%), both those with colour-blindness and colour normals, found watching video processed with Eyeteq perfectly acceptable, enabling everyone to watch and enjoy content together on the same screen.
The trial, which involved 90 participants, was co-funded by Innovate UK, the UK's innovation agency. It reveals Eyeteq's ability to allow colour-blind viewers to better differentiate between colour combinations they struggle to see, such as red-green and pink-grey. This means they can see image and video details they previously could not, improving their viewing experience. Participants gave high ratings to the overall picture quality, clarity and colour of content enhanced with Eyeteq and strongly agreed that it "made reds more red and greens more green". Even when the Eyeteq strength was fixed during viewing, the majority of colour-blind viewers preferred Eyeteq, with a preference ratio of over 3:1 for colour-sensitive content.
This demonstrates the considerable opportunities for broadcasters that Eyeteq offers. Pay TV providers that incorporate the technology within their set top boxes can better target the 250m people around the world, including 8% of men, who suffer from some form of colour-blindness. When asked to consider pricing options, colour blind participants considered that an additional £44 ($70) on top of the price of a set top box would be good value for integrated Eyeteq functionality. For subscription models, around £5 per month was considered good value.
With Eyeteq enabled, content streamed to a set top box is enhanced on a frame by frame basis before being displayed on the TV screen. It can be easily adjusted, using the TV remote control, to meet each viewer's specific requirements.
"For too long colour-blind viewers have found it difficult, if not impossible to enjoy watching their favourite television programmes," said Christopher Cytera, Managing Director, Spectral Edge. "As this new independent research demonstrates, Eyeteq not only transforms their viewing experience, but does so in a way that can be adjusted to their particular needs – without impacting the acceptability of content to colour-normals. This opens up a major new opportunity for pay TV operators, enabling them to differentiate themselves and increase revenues by providing Eyeteq to their subscribers."
The study carried out by i2 Media Research involved 90 participants, 60 of whom had some form of colour-blindness. Two thirds of these were classified as having reduced green ("deutan") sensitivity – a condition that accounts for 75% of the whole colour blind population. The full findings of the study can be downloaded from http://i2mediaresearch.com/i2-publications.
"For our research we wanted to scientifically analyse how Eyeteq affected the viewing satisfaction of both those with colour-blindness and colour normals," said Professor Jonathan Freeman, Professor of Psychology & Managing Director, i2 Media Research. "We found a clear and consistent preference for content enhanced with Eyeteq from participants, across multiple types of content, irrespective of the individual's form of colour-blindness."
To make it easily available to operators and service providers, Spectral Edge has successfully integrated Eyeteq with STMicroelectronics' 'Cannes' set top box chipset. It is now available for licence on a fixed fee, annual subscription basis, with operators receiving ongoing support and enhancements.
-ends-
About Spectral Edge
Formed in February 2011, Spectral Edge is a spin-out company of the Colour Lab of the School of Computing Sciences at the University of East Anglia in Norwich (United Kingdom). It operates from offices in Cambridge and Norwich.
Spectral Edge technology enhances images and video by using information outside the normal visible spectrum or applying transformations to that within it. Applications range from computational photography, mapping and consumer applications such as enhancing TV pictures.
Website: http://www.spectraledge.co.uk/
Pictures & Media Pack: http://www.spectraledge.co.uk/about/media-pack
LinkedIn: https://www.linkedin.com/company/spectral-edge-ltd/
Facebook: https://www.facebook.com/SpectralEdge
Twitter: @SpectralEdgeLtd
Email: pr@spectraledge.co.uk
About i2 Media Research
i2 media is an interdisciplinary team of experts in how humans and technology can work together – for the benefit of consumers and business. Founded in 2002 as a spin off from Psychology at Goldsmiths, University of London, i2 media has successfully completed more than 180 commissions, focused on both sides of (and across) the digital divide. i2 media combines the rigour and control of an academic approach with the clarity and actionable outputs of an applied approach, i2 media's research has involved a very broad range of users: from late adopters, to people with very specific access and usability needs, to the earliest adopters of the latest technology and service innovations.
About Innovate UK
Innovate UK is the UK's innovation agency. Its goal is to accelerate economic growth by stimulating and supporting business-led innovation. Sponsored by the Department for Business, Innovation and Skills (BIS), Innovate UK brings together business, research and the public sector, supporting and accelerating the development of innovative products and services to meet market needs, tackle major societal challenges and help build the future economy. For more information please visit www.innovateuk.org.
For more information:
Chris Measures (PR for Spectral Edge)
+44 7976 535147
chris@measuresconsulting.com