London (City) 05/03/2014: Leading IT Management & Investor group NewGen Associates is pleased to announce the successful completion of its most recent transaction, advising on the sale of Crocus Consulting Limited to Inoapps Limited.
Founded in 2000 Crocus Consulting is a leading Oracle Gold Partner specialising in PeopleSoft applications for HCM, Financials and Global Payroll. Inoapps is a leading Oracle Platinum Partner & hardware specialist with operations throughout Europe, the Middle East, Africa and the Americas. NewGen works closely with entrepreneurial businesses, their owners and management teams in the mid-market technology sector and was selected by Crocus Consulting to advise them on options for selling the business. After more than ten years the founding directors and shareholders wanted to achieve a successful capital event that met their pre-defined objectives. Using its considerable experience of M&A activity in the sector, NewGen crafted a tailor made exit plan for Crocus Consulting and carefully managed the process throughout. NewGen then identified potential buyers and led the negotiations to achieve an outstanding result for the shareholders.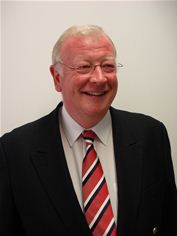 Steve Swift
Commenting on the deal, Steve Swift the NewGen director who led the process said, "Our considerable high level management experience and understanding of how to drive value in the deal was key. Careful planning and an understanding of the critical timelines involved was an essential element in optimising the value of the company. This enabled us to deliver a very successful transaction which matched all the requirements of the key stakeholders in the business and which took place at the right time for all concerned."
Crocus Consulting MD Chris Smith who will now head up the Inoapps Application Division noted, "We chose NewGen because of their tremendous experience of the sector and their widely acclaimed track record of delivery. They certainly worked diligently to fulfil our financial expectations."
For his part, Inoapps CEO Andy Bird added, "NewGen had prepared the due diligence data for Crocus to an extremely high standard and their detailed knowledge of their client and the business enabled the buying process to go smoothly."
Ends
Note to Editors: About NewGen (www.newgenassociates.com)
NewGen is a strategic management team, who work with, and advise, owners and investors on optimisation of their business potential.
NewGen was formed ten years ago providing Independent Directors, Consultancy and Advice and Guidance to Software Companies and producing results by giving businesses full commitment in time and investment.
The team has all held board positions with leading UK, European and Global Software Companies and represents over 100 years of Sales, Financial, Development and General Management experience in Software and associated Services.
We apply our expertise and business experience to achieve meaningful and sometimes dramatic results for the companies that we choose to work with and invest in.
Working closely with Private Equity, Venture Capital, Corporate Advisors and Banks and by applying our own brand of leadership and commercial thinking we have built a reputation and an impressive track record of achieving Shareholder and Stakeholder objectives.
We will always consider investment in the equity of our clients. This ensures that we share the same goals and objectives as other shareholders. The level of our investment varies depending upon the circumstances. On occasions a small minority shareholding may be appropriate whilst other circumstances may dictate that we take a controlling interest.
We are selective and only engage where we believe that we can add value and make a significant contribution.
For more information please contact:
Steve Swift
NewGen Associates
M: 07747 001602
sswift@newgenassociates.com
or
Leigh Richards
The Right Image
T: 0844 561 7586
M: 07758 372527
leigh.richards@therightimage.co.uk