LONDON, 30 May 2017 – NewVoiceMedia, a leading global provider of cloud contact centre and inside sales technology that enables businesses to have more successful conversations, has won the 2017 Call Centre Helper Top 10 Contact Centre Technology Awards for its ContactWorld solution.
The awards were founded to recognise the best products on the market and help contact centre managers make informed decisions about the technologies they invest in. NewVoiceMedia's ContactWorld solution received the most votes from readers of Call Centre Helper, making the results impartial and providing an accurate picture of the best technology available.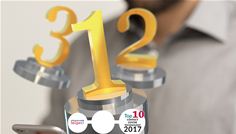 Announcement
ContactWorld is a multi-tenant intelligent communications platform that enables sales and service reps to have more successful conversations with their customers. Core contact centre functionality such as omni-channel contact routing, self-service IVR, automated outbound dialling, screen pops and instantaneous CRM updates are provided with proven 99.999% platform availability. NewVoiceMedia now serves more than 650 customers worldwide, including MobileIron, Lumesse, Vax, JustGiving and Canadian Cancer Society.
One reader commented, 'The intelligence behind ContactWorld – it really is seamless communication', while another commended the 'ability to rapidly deploy telephone technology to new global teams without leaving the office'.
Jonty Pearce, Editor of Call Centre Helper said, "These awards are voted on not by a panel of 'experts' but by real life contact centres that are using the technology. Over 1,040 votes were received during the voting process and the detailed comments clearly show what customers love about the technology. ContactWorld scored the largest number of votes and was particularly singled out for being user friendly, its rapid deployment for new global teams and its great integration with Salesforce".
"We're absolutely thrilled that ContactWorld has been named best contact centre technology, as voted for by the public", commented Tim Pickard, SVP Marketing at NewVoiceMedia. "Our cloud contact centre and inside sales platform is transforming the experiences that sales and service professionals offer their customers and prospects, ensuring every interaction is unique and personalised. This award is a testament that our solutions really are best-in-class and it's been great to see such positive feedback from customers as part of their nominations".
For further information about NewVoiceMedia, visit www.newvoicemedia.com
- ENDS –
About NewVoiceMedia
NewVoiceMedia's cloud contact centre and inside sales platform delivers more successful conversations.
The leading vendor's award-winning customer contact platform helps organisations worldwide build a more personal relationship with every customer or prospect. It joins up all communications channels without expensive, disruptive hardware changes and plugs straight into your CRM for full access to hard-won data. With a true cloud environment and proven 99.999% platform availability, NewVoiceMedia ensures complete flexibility, scalability and reliability.
NewVoiceMedia's 650+ customers include PhotoBox, MobileIron, Lumesse, Vax, JustGiving and Canadian Cancer Society. For more information, visit www.newvoicemedia.com or follow NewVoiceMedia on Twitter @NewVoiceMedia.

NewVoiceMedia PR contact
Nicola Brookes
Tel: +44 (0)7500 006 458
Email: Nicola.brookes@newvoicemedia.com