All 64 main World Cup games will be broadcasted for football fans over nine new ultimate World Cup channels with two of them in HD quality, all using Newtec's satellite broadcast solution for DTH transmission.
JAKARTA, Indonesia, and SINT-NIKLAAS, Belgium, 27 May 2014 New Indonesian prepaid Direct-To-Home (DTH) satellite service VIVA+ will deploy Newtec equipment to deliver all of its content, initially consisting of two HD and 35 SD channels.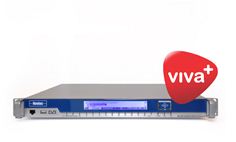 Newtec M6100 Broadcast Satellite Modulators are central to the VIVA+ DTH service
The DTH platform, which launched in April 2014 to coincide with the World Cup, is featuring nine premium value 'Ultimate World Cup Channels' dedicated to broadcasting the upcoming World Cup taking place in Brazil between June 12th and July 13th.
Newtec has been the technology partner to VIVA+ parent company PT Digital Media Asia since the new DTH service was just a concept in the planning stage in 2010. Newtec's modulation equipment for three transponders have already been installed and are operational with plans to add more as more subscribers join. In April the company announced that it expects 300,000 new subscribers in the first half of 2014 and potentially up to a million over a longer period.
"It has been great to be a technology partner for this project since the very beginning, and use our expertise to help guide its technological development. We are continuously expanding on our solutions to improve DTH services and have implemented our latest technologies to maximize customer experience and profitability for VIVA+," said Mario Querner VP Asia of Newtec.
Newtec's Automated Equalink® technology allows DTH operators to either save money on space capacity, lower programming cost or simply increase service availability. Up to 10% increase in throughput can be realized without changing any system parameters or set-top boxes, making it possible to upgrade some SD programs to HD or add content. Newtec's equipment also includes Clean Channel Technology® which is a combination of improved roll-offs for DVB-S2 and advanced filtering technologies to allow optimal bandwidth utilization. The combination brings even further efficiency gains.
"Newtec has been an essential strategic partner in the development of our new exciting DTH service which is already reaching every corner of Indonesia. The technology is operational and working exceptionally well with the project delivered in time. Newtec is ensuring that we are squeezing every bit of capacity possible from our leased satellite space segment in order to give our customers the best value and experience especially for the upcoming World Cup," said David Khim, Chief Technology Officer and Chief Operating Officer of VIVA+.
As well as the World Cup the DTH package will also include a wide range of Indonesian and international television channels, from entertainment, news and sports, to children's and religious programs.
Media Rights and Equipment
VIVA+ was the first media group in Indonesia to acquire full media rights for the FIFA World Cup 2014 and other FIFA events through cable and satellite transmission. All channels will be broadcast utilizing multiple Ku-band transponders on AsiaSat 5 at 100.5 degrees East.
Newtec's M6100 Broadcast Satellite Modulators are central to the project as well as a combination of Newtec's redundancy switches and demodulators. This infrastructure is software upgradeable to the new DVB-S2X standard. For more information about Newtec's DTH satellite technologies visit www.newtec.eu/application/direct-to-home-broadcasting and talk to Newtec at its CommunicAsia booth in Singapore (level 1, stand P2-01) from the 17th until the 20th of June 2014.
- ENDS -
Your Contacts
Newtec
Kerstin Roost
Public Relations Director
Tel: +49 30 430 95 562
Kerstin.Roost@newtec.eu
PT. Digital Media Asia/Viva+
Yukie N.S. Kartaatmaja
PR Manager
Tel : +62 21 992 221 10
yukie@bakrietelecom.com
CommunicAsia: 1P2-01
About Newtec
Newtec, www.newtec.eu, is specialized in designing, developing and manufacturing equipment and technologies for satellite communications. As a pioneer in the industry, Newtec is dedicated to creating new possibilities for the broadcast, IP trunking and backhauling, consumer and enterprise VSAT and government and defense markets. Our products and technologies can be applied in a wide range of single and multiservice applications from DTH broadcasting, video contribution and distribution and disaster recovery and backbones for cellular backhauling, to small and medium enterprises, SCADA networks, manned and unmanned aircrafts, border control and Morale, Welfare and Recreation (MWR).
For over 29 years, our dedicated team of specialists has set industry standards with the most efficient, scalable and economical technology solutions. New challenges and customer needs offer opportunities to explore new boundaries. This empowers us to work even harder, helping customers to perform their best so that, together, we can make the world a safer, more informed and connected place. As a result, more than 3 billion people watch TV every day thanks to Newtec technology.
Newtec is a European company founded in 1985. Through commercial offices in Sint-Niklaas (Belgium), Dubai (UAE), Singapore, Beijing (China), Sao Paulo (Brazil) and Stamford, CT (USA) as well as an extensive network of over 80 certified partners, Newtec can meet customer's needs worldwide.
About PT. Digital Media Asia and VIVA+
PT Digital Media Asia is a subsidiary of PT Visi Media Asia Tbk. (VIVA), a well-known player in Indonesia's media industry. With a vision and mission to be the leading Convergent direct-to-home Prepaid TV Service Operator in Indonesia with VIVA+ as its brand, is not just another pay-TV service. It is a lifestyle choice, with the power to do much more. Watching TV, Internet access, games, DVR, interactive applications and numerous other functions.
For more information visit www.digitalmediasia.com.