Newtec showcases its DVB-S2X solution on the DVB booth at IBC (Hall 1 D81)
SINT-NIKLAAS, Belgium, 10 September 2014 Newtec, a specialist in designing, developing and manufacturing equipment and technologies for satellite communications, is the first to ship a full portfolio of DVB-S2X modulators, modems, demodulators, hubs and OEM boards.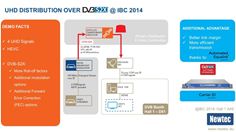 DVB - UHD Demo Overview
Newtec, which has initiated the creation of a new satellite transmission standard in DVB, has already demonstrated live transmissions using DVB-S2X since February 2014. Today, existing products can be DVB-S2X enabled through a simple software upgrade: No hardware changes are required.
Demo at the DVB Booth
During IBC Newtec together with other DVB members will be showing the capabilities of DVB-S2X products in a demonstration on the DVB booth (Hall 1 D81). The DVB-S2X demonstration will highlight the new standard that offers spectral efficiency gains of up to 50% for professional applications. DVB-S2X will be used in the demo, together with other new technologies such as HEVC, to deliver four 4K Ultra High Definition Television (UHDTV) signals at a data rate of 100 Mbit/s.

DVB-S2X provides more choice for roll-off factors as well as additional modulation and coding options that allow for the more efficient use of satellite transmission channels. It enables channel bonding of up to three satellite carriers, which support higher aggregate data rates and allows for additional statistical multiplexing gain for services such as UHDTV.
"We have been involved with the development of the new DVB-S2X standard since its very notion was suggested within DVB and are very pleased to see it on the IBC exhibition floor, being demonstrated as such a success," said Dirk Breynaert, CTO of Newtec. "We are proud to be pioneers for increased standardization and improved efficiency for the entire satellite sector."
Automated Equalink® technology is also enabled on each of Newtec's products, offering an even better link margin and more efficient transmission on top of DVB-S2X. The Newtec gear also comes DVB Carrier ID (DVB CID) enabled.
During the last two years, Newtec has been involved in a number of 4K UHDTV demonstrations around the world including the world's first using DVB-S2X for a UHDTV satellite modulation in June 2014.
Pace and Ericsson technology will also be used in the DVB demonstration at IBC.
- ENDS -
Your Contact
Newtec
Kerstin Roost
Public Relations Director
Tel: +49 30 430 95 562
Kerstin.Roost@newtec.eu
IBC 2014: Hall 1 Booth A49
IBC Info Session & Panel Discussion: NEXT GENERATION BROADCAST NETWORKS
Addressing Today's and Upcoming Broadcast Challenges
Date: Sat., 13 Sept. 2014; 10am – 11:30am
Venue: Elicium building at RAI Amsterdam, Room D203
Registration: www.newtec.eu/event/join-our-ibc-session-2014
Expert Speakers include: DVB, EBU, Intelsat, PBS, Tata Communications.
Presentation at the VSAT 2014 Conference
Date: 17 Sept. 2014; 12.35 - 12.55 (noon), Venue: Millennium Gloucester Hotel in London, UK
Topic: You can't predict the future! So can you prepare yourself?
Speaker: Serge Van Herck, CEO of Newtec
About Newtec
Newtec, www.newtec.eu, is specialized in designing, developing and manufacturing equipment and technologies for satellite communications. As a pioneer in the industry, Newtec is dedicated to creating new possibilities for the broadcast, IP trunking and backhauling, consumer and enterprise VSAT and government and defense markets. Our products and technologies can be applied in a wide range of applications from DTH broadcasting, video contribution and distribution and disaster recovery and backbones for backhauling, to small and medium enterprises, SCADA networks, manned and unmanned aircrafts, border control and Morale, Welfare and Recreation (MWR).
For over 29 years, our dedicated team of specialists has set industry standards with the most efficient, scalable and economical technology solutions. New challenges and customer needs offer opportunities to explore new boundaries. This empowers us to work even harder, helping customers to perform their best so that, together, we can make the world a safer, more informed and connected place. As a result, more than 3 billion people watch TV every day thanks to Newtec technology.
Newtec is a European company founded in 1985. Through commercial offices in Sint-Niklaas (Belgium), Dubai (UAE), Singapore, Beijing (China), Sao Paulo (Brazil) and Stamford, CT (USA) as well as an extensive network of over 90 certified partners, Newtec can meet customer's needs worldwide.
About DVB
Digital Video Broadcasting (DVB) is an industry-led consortium of over 200 broadcasters, manufacturers, network operators, software developers, regulators and others from around the world committed to designing open interoperable technical standards for the global delivery of digital media and broadcast services. www.dvb.org