Newtec is taking the lead on two QinetiQ projects as it works towards full ESA certification
SINT-NIKLAAS, Belgium, 18 June 2019 – Newtec, a specialist in the design, development and manufacture of equipment for satellite communications, today announced it is working with QinetiQ on two key projects as it enters the Belgian space market.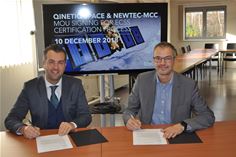 Thomas Van den Driessche, CEO, Newtec and Erik Masure, Managing Director, QinetiQ Space Belgium sign an MoU for ECCS Certification process
QinetiQ – a leading science and engineering company operating primarily in the defense, security, space and air markets – has chosen Newtec's Manufacturing Competence Center (MCC), in Erpe-Mere, Belgium, to provide the soldering of on-board electronics for two projects. The work will contribute towards Newtec's European Space Agency (ESA) certification which the company hopes to complete by 2020.
Under the agreement, Newtec will work on two initiatives – the International Berthing and Docking Mechanism (IBDM) and the development of onboard computers for the next generation of satellites QinetiQ is planning to build. The IBDM, which is being developed together with ESA, will enable vehicles carrying cargo or passengers to dock softly at any space station with less force.
"Our work with QinetiQ is the beginning of a strong legacy we hope to create in the space industry in Belgium," said Danny De Smet, who is responsible for Business Development at Newtec's MCC. "We are delighted that QinetiQ has entrusted us with this project which will showcase the skills we have honed throughout our work in other industries, including the industrial, avionics and military sectors. Our ability to deliver this work for QinetiQ is the result of company ambition and investment that has further enhanced our manufacturing capabilities."
From its site in Kruibeke, Belgium, QinetiQ selected Newtec's MCC due to the advantages that working with a partner in close proximity brings, including cost-effectiveness and convenience.
Newtec's MCC has Factory of the Future status, the highest possible recognition for the manufacturing industry in Belgium, and works with a range of customers including Thales and Panasonic.
"Our partnership with Newtec has brought a number of benefits, including maximum cost-effectiveness and convenience due to the location being near our Space Centre, which will prove particularly useful should any problems arise," said Frank Preud'homme, Commercial Director at QinetiQ. "Over the years, Newtec's MCC has proved itself to be more than competent in providing services to a number of different industries and we are sure it will also see success in the space segment as it continues to expand."
- ENDS -
Your Contact
Newtec
Helen Jameson
PR Manager
+44 (0)787 8432 940
hjam@newtec.eu
QinetiQ
Frank Preud'homme
Commercial Director
+32 477416418
frank.preudhomme@qinetiq.be
About Newtec
Newtec, www.newtec.eu, is specialized in designing, developing and manufacturing equipment and technologies for satellite communications. As a pioneer in the industry, Newtec is dedicated to creating new possibilities for the broadcast, consumer and enterprise VSAT, government, cellular backhaul and trunking and mobility, offshore and maritime markets. Our products and technologies can be applied in a wide range of single and multiservice applications from DTH broadcasting, video contribution and distribution and disaster recovery and backbones for cellular backhauling, to small and medium enterprises, SCADA and oil and gas networks, aircrafts and vessels.
Since 1985, our dedicated team of specialists has set industry standards with the most efficient, scalable and economical technology solutions. New challenges and customer needs offer opportunities to explore new boundaries. This empowers us to work even harder, helping customers to perform their best so that, together, we can make the world a safer, more informed and connected place. As a result, more than 3 billion people watch TV every day thanks to Newtec technology.
Newtec is a European company headquartered in Sint-Niklaas, Belgium. Through additional commercial offices in Dubai (UAE), Singapore, Beijing (China), Sao Paulo (Brazil) and Stamford, CT (USA) as well as an extensive network of over 100 certified partners, Newtec can meet customer's needs worldwide.
About QinetiQ
QinetiQ is one of Europe's leading space system integrators. Through its longstanding ESA and defence heritage, QinetiQ offers the design, build, launch and operation of complex space infrastructure, ground stations, subsystems and satellites.
The PROBA remote sensing satellites are designed and built at our facilities, where today we deliver entire satellites and major satellite equipment including on-board computers, remote terminal units, mass memories, space mechanisms (including spacecraft docking), advanced electric propulsion systems and radio transceivers to enable the most demanding space missions.
QinetiQ provides "best fit" cost-efficient small satellite solutions with a guaranteed lifetime including secured satellite communications and operations.
For human exploration our IBDM technology provides docking solutions to support cargo and crew missions in Low Earth Orbit and beyond, while our proven water processing experience enhances the efficiency of water recycling and In Situ Resource Utilisation systems.