With over 17 million installs in the Android market, Noom is set to take on iOS.
New York, May 09, 2013 Noom Weight Loss Coach, Android's leading weight loss app, releases its first iOS version today.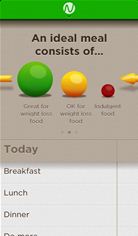 Noom iOS Weight Loss Coach
Like its Android brother, Noom Weight Loss for iOS will track exercise and food and motivate users throughout the day to live healthier and more active lives.
Unlike competitors, Noom Weight Loss helps members lose and maintain weight through simplified, effortless logging and coaching. Each day, Noom Weight Loss gives members a list of easy tasks that help you stay focused. Meanwhile, instant feedback lets you see where you stand and what you need to do to reach your goals each day.
To help members eat well, Noom Weight Loss tracks food intake through intelligent, state of the art food logging. Our search functionality is optimized for easy searching and browsing (find exactly what you're looking for in just a few keystrokes), and Noom's simple green-yellow-red food logging system makes it a breeze to log your meals without having to weigh and measure every bite.
To date, Noom has helped over 17 million people worldwide —from the United Kingdom to South Korea—attain their health goals and lose over 30 million pounds. With Noom Weight Loss Coach on iOS, Noom hopes to grow those numbers exponentially in the coming months.
Saeju Jeong, CEO, Noom commented, "Noom Weight Loss first launched on the Android market in late 2011. Over the years we have been able to grow a large and loyal fanbase of solely Android users. But, as more and more of our users upgraded their Androids to iPhones, we saw a greater demand for our product in the Apple store.
‪"We at Noom are always looking to make our products easy and accessible for everyone, so the next logical step was to expand‬ to iOS, and we are so proud of the product we are bringing to iPhone users."‬
Noom Weight Loss is currently compatible with iOS 5 and higher, and will be released in English and Korean, followed by more languages in the near future.
# Screenshots
https://drive.google.com/folderview?id=0B0qLk0Txcui_cE83cndoOVZ6dFk&usp=sharing
# Video Tour
http://www.noom.com/ioslaunch/
-ends-
About Noom, Inc.
Noom, Inc. is the fast-growing New York-based health and wellness intelligence tech startup. Noom develops technology that makes living a healthy lifestyle easy and enjoyable.
Since 2005, Noom (then WorkSmart Labs) has exploded from a 2 person company—founded by Saeju Jeong and Artem Petakov, a successful entrepreneur and an ex-Googler—to a multidisciplinary team made up of 30 leading engineers, researchers and designers. Noom team members are as diverse as Noom's users, and hail from all over the world—from Russia, to South Korea, to Germany and back to the United States.
Noom's growth and success have been recognized around the tech community and by top investors, including Kleiner Perkins Caufield Byers, Qualcomm Ventures, Harbor Pacific Capital, and m8 Capital.