SmartGroups and message acknowledgement enable faster emergency response
London, 24 January, 2012 - PageOne Communications, the UK's leading provider of mobile messaging solutions to the public and enterprise sectors, today announced Norfolk and Suffolk NHS Foundation Trust has rolled-out its Responder 2-way messaging device, following an intensive review of its messaging requirements.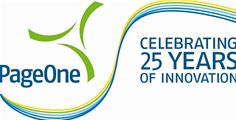 25th anniversary logo
Responsible for providing specialist mental health services for the whole of Norfolk and Suffolk, the Trust delivers care and attention to around 14,000 people at any one time. Utilising PageOne's powerful SmartGroup technology, on-call doctors and nursing teams are assigned to groups based on the emergencies to which they are qualified to respond. When an incident occurs, administrative staff can initiate messages directly from within Flare, PageOne's dedicated web-based messaging suite. Once a message has been sent to the Responder, the administrative staff at Norfolk and Suffolk can see at a glance whether the message has been delivered and via a number of preset responses, receive acknowledgement of how the message recipient has responded.
"It's vital that the Trust has the underlying systems and processes in place to enable a fast and effective emergency response," said Richard Green, ICT Security Manager Norfolk and Suffolk NHS Foundation Trust. "PageOne's 2-way Responder gives us this flexibility and means our support staff know the exact status of any ongoing incident via the Flare interface. This makes us even more efficient as our team knows which incidents are being dealt with and those they might need to escalate."
Fully integrated into PageOne's web-based messaging applications, or existing command and control systems, the 2-way Responder combines the strengths of paging with GSM/GPRS to deliver powerful 2-way messaging capability. With this greater intelligence, administrators can make rapid, informed decisions on the mobilisation and coordination of staff and resources.
Norfolk and Suffolk has even experienced the benefits of the two-way Responder first-hand after a member of its own staff suffered an asthma attack onsite.
"In the incidence of breathing difficulties it's important to get oxygen to the patient as soon as possible, so I phoned Reception as I felt an asthma attack coming on and just asked if I could get some oxygen to prevent it," explained Ben Shotbolt, ICT Support Technician, Norfolk and Waveney Mental Health NHS Foundation Trust. "Within two minutes of me calling reception a medical emergency had been declared and a team of nurses and doctors had arrived on-scene - no small feat considering where they were on site. Having been on the receiving end, I really do appreciate what a difference a device such as the Responder can make to our patients."
"By closing the loop on traditional broadcast messaging our 2-way Responder has enabled Norfolk and Suffolk NHS Foundation Trust to further enhance its operational and incident management processes. The device has proved to be an invaluable communication channel for the Trust providing a quick, secure and reliable mechanism to manage its resources more efficiently" said Clair Cawley, Director of Marketing, PageOne Communications.
For further information about PageOne's two-way responder, please visit – http://www.pageone.co.uk/services/paging/2-way-paging
-End-
About PageOne. www.pageone.co.uk
PageOne Communications is celebrating 25 years of innovation in mobile messaging solutions. The company has proven expertise in helping clients drive operational and cost efficiencies, deliver effective results and have a real business edge in a competitive market. With a rich heritage in all aspects of messaging - from paging and SMS through to voice, email and location based services - it places its customers at the heart of its product development to help thousands of organisations across the public and major corporate sectors with reliable, cost-effective and award-winning solutions.
Note to editors
The PageOne name is written as one word with a capital 'P' and capital 'O'.
Press Contact:
Geraldine Fernandez / Robert Hickling
Say Communications
Tel: 020 8971 6400
Email: pageone@saycomms.co.uk