North Lincolnshire Homes, part of ongo, has chosen 1st Touch mobile workforce technology (www.1sttouch.com), for use on Apple iPads, to support its maintenance and responsive repairs operations.
With a partnership objective that everything they do is put back into the local communities, running an efficient maintenance operation across more than 10, 000 homes, in and around Scunthorpe, is a key element of North Lincolnshire Home's service delivery commitment.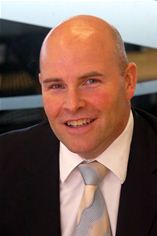 Robert Dent
1st Touch mobile workforce software brings significant efficiencies and productivity increases to any organisation where field based operatives, equipped with handheld devices such as the iPad, deliver services. The software manages supports and controls all aspects of mobile operatives' activities, linking the data gathered seamlessly to back-office systems.
1st Touch was chosen by North Lincolnshire Homes as the software had an existing integration with their back-office Aareon QL Housing Management system. North Lincolnshire Homes was also aware that 1st Touch leads the market in the supply of mobile technology to the social housing sector and had heard favourable reports about the software through networking with other social landlords.
In choosing 1st Touch mobile software for use on the maintenance operatives' Apple iPads, North Lincolnshire Homes achieves significant time savings in which more jobs can be carried out with the same resources. As Steve Hepworth Director of Operations for North Lincolnshire Homes explains, "Ensuring that we have an effective and efficient maintenance service is an important element of our customer service strategy. With 1st Touch software on our iPads, we have increased the speed of our responses and our mobile operatives are out on the road more. This has helped us to achieve some fantastic customer service responses from our tenants. 1st Touch also allows us to look at how we can utilise a similar mobile system to the one we use in maintenance for the different services we offer across our range of companies. This includes our tenancy support teams who will be able to be out and about more with the right information with them when they are in tenants' homes and will help us to deliver a high quality and flexible service. We can also design forms to use for home check visits for tenancy verification purposes. This allows us to gather lots of information that helps us to shape our services around the needs and aspirations of our customers."
Neil Keay Head of Maintenance at North Lincolnshire Homes added "We have 41 people in our maintenance department using 1st Touch running on Apple iPads. The software has reduced the paperwork significantly. We no longer have form to fill in forms that are very difficult to administer. We believe the software will save us more than 80 hours a month which is a lot of extra jobs that we can fit in. Ultimately, this will benefit our tenants greatly."
Commenting on the use of mobile technology at North Lincolnshire Homes, Robert Dent CEO of 1st Touch noted, "As part of the ongo partnership, North Lincolnshire homes has impressed me as they are completely focussed on putting everything they do back into local communities. An effective maintenance programme is an important element of this and we are delighted that they have chosen 1st Touch to manage their maintenance and responsive repairs operations. We look forward to working closely with them as they consider using similar mobile technology solutions across other parts of the enterprise."
For a video on the use of 1st Touch mobile workforce technology at North Lincolnshire Homes please visit http://www.youtube.com/watch?v=eVbWc8nLuqs&feature=youtu.be
Ends
About North Lincolnshire Homes part of the ongo partnership (www.nlhomes.org.uk)
North Lincolnshire Homes has its head office in Scunthorpe, North Lincolnshire. It employs 300 people and owns 10,000 homes. It was formed in 1997 following a large scale voluntary transfer from North Lincolnshire Homes.
In 2013, North Lincolnshire Homes became part of ongo – a partnership set up to develop commercial services and social enterprises with the aim of putting back into local communities.
About 1st Touch (www.1sttouch.com)
Southampton based 1st Touch, a subsidiary of Aareon AG (www.aareon.com), has enabled dozens of field workforce-based organisations to embrace new mobile technologies and so achieve significant savings, greater productivity and more cost-effective use of resources. 1st Touch Mobile delivers clear and unique benefits: - Reduced costs to organisations because airtime is minimised and the system is always available with or without airtime. The system's flexibility through simple customer control over forms creation and amendment is widely acclaimed. There is Integration to multiple back office and other enterprise software applications, so that data is entered only once.
With its widely acclaimed mobile technology, 1st Touch has a clear focus on the Social Housing and Local Government markets. Many social housing providers and local authorities, at large, now benefit from the fast and tangible, best of breed benefits that 1st Touch mobile technology delivers to the enterprise.
To date, over 50% of the social housing market, which has deployed mobile technology, has chosen to implement 1st Touch. In local government, 1st Touch has already been adopted for a wide range of mobile workforce uses. Ready to use applications for local authority organisations include: Public Buildings, Highways/Street Services, Environmental/Waste Management, Revenues and Benefits, together with Planning Control and Trading Standards.
1st Touch software is available on a wide variety of platforms including: Windows Mobile, Apple and Android.
For further information on 1st Touch please contact:
Mim Claridge
1st Touch
02380 111206.
mim.claridge@1sttouch.com
www.1sttouch.com
or
Leigh Richards
The Right Image PR & Marketing Group
07758 372527
leigh.richards@therightimage.co.uk
www.therightimage.co.uk
For information on North Lincolnshire Homes please contact:
Samantha Roberts
PR & Communications Officer, PR & Communications Department
01724 298822
07717588173
samantha.roberts@nlhomes.org.uk