Nosto's AI-powered personalisation solution for bag and tech accessories retail brand Knomo has been recognised as a double-winner in the eCommerce Awards for Excellence 2018. It was honoured with both the 'Best use of AI' and 'Best use of Personalisation' awards at the annual online retail industry event.
The winning solution, which was implemented in partnership with the ecommerce team at Knomo, relies on Nosto's AI analysing visitors' online behaviour to personalise the shopping experience. It does this by delivering the most relevant real-time product recommendations and pop-ups to Knomo's customers, as well as triggering personalised Facebook ads and emails.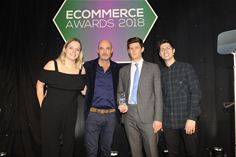 Nosto is a double winner at the eCommmerce Awards for Excellence 2018
The results have been impressive. Since going live with Nosto's personalisation technology, Knomo has achieved a 16% increase in Average Order Values from onsite product recommendations; a 60% increase in conversions from using onsite pop-ups targeting cart abandoners; and a 10x Return on Ad Spend via Facebook retargeting.
Now in their tenth year, the eCommerce Awards have consistently broken new ground in highlighting some of the very best online retailers, online companies, agencies, innovations, products and campaigns the ecommerce industry has to offer.
Nosto's CEO Jim Lofgren had this to say about his company's success in this year's awards:
"Working with innovative and groundbreaking retail partners such as Knomo continues to validate that our next generation AI technology massively improves the consumer shopping journey and creates a much more relevant experience. A huge thank you obviously goes out to Knomo, who with their customer obsession really help deliver our technology in ways that consumers love!"
Read a short case study about the success that Knomo is enjoying with Nosto's personalisation technology here: https://www.nosto.com/knomo/
About Nosto
Nosto is the fastest growing ecommerce personalisation and retail AI platform in the world. Supporting more than 2,500 retail brands in more than 100 countries, Nosto has fuelled over 25 billion personalised experiences and delivered a gross merchandise volume (GMV) of more than $10 billion through its customer stores. Nosto's end-to-end personalisation platform provides deep customer insights that drive real-time personalized shopping experiences across any touch point and any device. Through its patented technology, proprietary machine learning algorithms, vast network of ecommerce data and dedicated customer success team, Nosto supports its retailers from its offices in New York, Los Angeles, London, Berlin, Paris, Stockholm and Helsinki. More information can be found at https://www.nosto.com/.
UK Media Contact:
Uday Radia
CloudNine PR
uradia@cloudninepr.com
+44 (0)7940 584161