Nuvias selected as exclusive EMEA enterprise distributor for Kaptivo's innovative whiteboard collaboration solution
Kaptivo's innovative, whiteboard collaboration solution enables live sharing of existing whiteboards and is interoperable with all major conferencing solutions

Nuvias is the exclusive distributor for Kaptivo's solutions to the enterprise segment across EMEA

Nuvias delivers bundled, interoperable business solutions to channel partners, with expert technical support
London: 14/11/18 – Kaptivo, a disruptive and innovative brand in the UC market, is working with Nuvias to make its whiteboard collaborative solution available throughout the EMEA enterprise market.
The Kaptivo whiteboard collaboration system lets customers digitise their existing, dry-erase whiteboard and live-share it with remote users. It leverages the familiarity of the traditional whiteboard, requires no special pens or equipment and works with a single button press. The Kaptivo solution integrates easily into conferencing systems, including BlueJeans, Dolby, Polycom and Lifesize, already key parts of the Nuvias UC vendor portfolio. This enables Nuvias to offer bundled, easy-to-deploy business solutions to channel partners across EMEA. Nuvias will support channel partners with additional services, including the integration of the kit into pre-packaged conferencing solutions.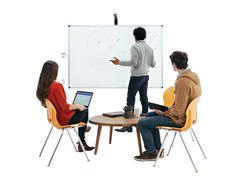 Kaptivo whiteboard
Steve Harris, EVP of Unified Communications at Nuvias, commented: 'Unified Communications are transforming our business landscape, with enhanced collaboration tools adding a competitive edge to our partners. Kaptivo embody this spirit and we are excited to make their solution available as part of the comprehensive conferencing solutions we offer.'
David Hsieh, CEO at Kaptivo said: 'We are excited to be working with Nuvias to assist our entry into the enterprise channel in EMEA. Kaptivo's unique approach to making the traditional whiteboard part of the digital collaboration ecosystem has taken the market by storm. Our one button integration with existing conferencing solutions and native support for BlueJeans and Dolby makes using a whiteboard in a conference session as natural as being in the room.'
About Nuvias Group
Nuvias Group is the pan-EMEA, high value distribution business, which is redefining international, specialist distribution in IT. The company has created a platform to deliver a consistent, high value, service-led and solution-rich proposition across EMEA. This allows partner and vendor communities to provide exceptional business support to customers and enables new standards of channel success.
The Group's portfolio covers a comprehensive range of IT solutions, with the focus currently on three areas – Cyber Security (based on the former Wick Hill); Advanced Networking (based on the former Zycko) and Unified Communications (based on the former SIPHON). In July 2017, Nuvias added Benelux value added distributor and security specialist DCB to the Group. All four award-winning companies had previously demonstrated their ability to provide innovative technology solutions from world-class vendors, and deliver market growth for vendor partners and customers. Nuvias Group has 21 regional offices across EMEA, as well as serving additional countries through those offices. Turnover is around US$ 500 million.
For further press information or pictures, please contact Orietta Sutherberry at Nuvias on +44 (0)7741 149367 or email orietta.sutherberry@nuvias.com
For images, please contact Peter Rennison at PRPR on + 44 (0)1442 245030 or email pr@prpr.co.uk