Pro9541WT A3+ digital transfer media printer delivers vibrant CMYK+White with no daily maintenance requirements, making it ideal for textiles and hard surface materials
Egham, 25th September 2019 - OKI Europe has announced the launch of its innovative new Pro9541WT 5-colour Digital Toner Transfer Media Printer, purpose-built to give commercial print businesses the flexibility to expand their print capabilities. Designed for the screen and textile printing industry, the versatile digital printer cost-effectively delivers brilliant colour, opaque white and true black on garments and hard surfaces using heat transfer media. With no set up time or costs, highly customised designs and short print-runs with a minimum volume of just one are now possible, making it ideal for commercial printers, merchandisers and newcomers to the market.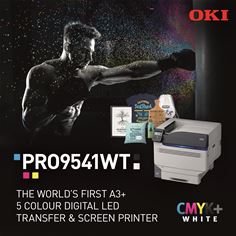 Pro9541WT
Generating flawless vibrant CMYK+White colour and sharp graphics on garments and textiles including cotton, canvas nylon, polyester, leather and felt, the Pro9541WT's innovative transfer media technology makes it possible to produce high-quality designs on hard surfaces including ceramics, acrylic, glass, metal, enamel and wood. This fuss-free flexibility makes it suitable for a huge range of applications, from T-shirts and customised garments to mugs, hats, bags, coasters, wall art and much more.
OKI's pioneering digital LED and white toner technologies deliver sharp 1200 x 1200 dpi resolution, creating precise, detailed graphics even on dark surfaces. Easy to use with a large 13" x 19" A3+ print capability, the Pro9541WT cost-effectively produces extra-large graphics or a full sheet of logos with no daily maintenance requirement, saving time and cost on print jobs.
EXOstencil™ Screen Prep Paper from heat transfer paper manufacturer Neenah Performance Materials, is tested and approved for use with the new Pro9541WT Toner Transfer Media Printer. This offers a simple, eco-friendly two-step alternative to screen printing frames, eliminating chemicals and emulsions from the process along with hours of drying, significantly reducing production time and cost without compromising on performance.
"Reliable and affordable, in a competitive market for customised garment and merchandise printing, the Pro9541WT offers unbeatable flexibility for professional print businesses of all sizes," says Shu Watanabe, Vice President Industry Print, OKI Europe Ltd.
"The combination of OKI's pioneering, easy-to-use 5 colour digital LED technology with chemical-free EXOstencil™ Screen Prep Paper technology not only reduces production time but also makes the process greener, cleaner and extremely low maintenance.
"Specifically designed for flexibility and ease-of-use, the Pro9541WT's combination of industry-leading digital LED technology, CMYK+White toner printing capability and cutting-edge transfer media printing make it possible for users to personalise almost anything from T-shirts and garments to ceramics, plastics and metal – delivering more choice for customers and opening-up new potential revenue streams for print businesses."
For further information visit www.okieurope.com/white
-End-
Notes to Editors:
Pro9541WT Printer Specifications[1]
Performance: 5 Colour Digital LED
Print speed[1] [CMYK+White]: Up to 18 ppm for Letter Transfers / 12 ppm for A3 Transfers
Time to first page[1]: Approx 8 seconds
Duty cycle: 300,000 pages
Resolution: Up to 1200 x 1200 dpi; ProQ 1200 x 600 x 16 levels
Media Handling

Media Sizes: A3+ (329 x 483mm), A3 (297 x 420mm), legal, letter, A3, A4, A5, A6, and media up to 1,320mm
Media Weight: Trays 1/2/3: 52-320 gsm; Multi-purpose Tray: 52-360 gsm;

Memory 2GB RAM; 1.2 GHz ARM CPU
Noise level


Operating: 57dBA or less; Standby: 34dB(A) or less
PowerSave mode: Inaudible

Power consumption Active: 1600W max. /1100W avg.; Standby: avg. 40W; PowerSave mode: 30W or less; Sleep mode: 4W or less; Auto Shutoff: 0.4W or less
Dimensions (WxDxH): 699 mm x 625 mm x 640 mm
Weight: 110.8kg including consumables
[1] Specification subject to change without notice. All trademarks acknowledged.
About OKI Europe
OKI Europe Ltd is a division of OKI Data Corporation, a global business-to-business brand dedicated to creating cost effective, professional in-house printers, applications and services which are designed to increase the efficiency of today's and tomorrow's businesses.
The company is well-established as one of Europe's leading printer brands, in terms of value and units shipped. For over 60 years OKI Europe has been delivering advanced printing solutions worldwide, introducing ground-breaking technologies that support the needs of businesses large and small. Our pioneering development of digital LED printing technology has placed OKI at the forefront of the market in delivering high-definition, eco-friendly printing devices.
Since the acquisition of the globally-deployed wide format printer business of Seiko I Infotech Inc. a subsidiary of Seiko Instruments Inc. OKI distributes precision-engineered wide-format printing systems specifically for the sign, graphics, CAD and GIS markets that provide industry-leading productivity and image quality. With an EMEA wide network of authorised distributors and dealers OKI Europe Ltd provides complete printing solutions including wide format printers, inks, media, software, installation, support, knowledge and training.
In addition to a vast portfolio of award-winning printers and MFPs, OKI offers a range of services to help optimise print and document workflows. This, together with an integrated suite of software technologies and tools, can help businesses take control of their print and document costs in a secure environment, whether office based, mobile or in the cloud.
Today OKI Europe employs over 500 staff in 15 locations (sales offices and distribution sites) and is represented in 60 countries throughout the EMEA region.
OKI Data Corporation is a subsidiary of Tokyo-based Oki Electric Industry Co. Ltd., established in 1881 and Japan's first telecommunications manufacturer.
Visit www.oki.com/eu for further information.
OKI Europe Ltd: Pamela Ghosal: pr@okieurope.com + 44 (0) 208 2192190
Whiteoaks: Zachary Hodges: zacharyh@whiteoaks.co.uk +44 (0) 1252 727313