The all-in-one software platform will help users of OKI's Office Printers to work in more productive, efficient and secure ways
Egham, 3rd July 2019 – OKI Europe Ltd today announced the launch of SENDYS Explorer multi-fleet software. Exclusive to OKI, the complete software solution enables users in any industry and organisation size to do more with their OKI printers and MFPs. From businesses to retail and healthcare organisations and beyond, users can digitise and manage documents, control print jobs remotely, improve security and reduce wastage.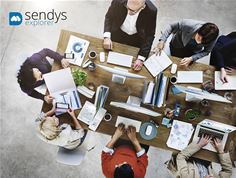 SENDYS Explorer
Compatible with OKI's Office Printer portfolio, SENDYS Explorer helps organisations take control of their document and printer fleet. Additionally, the software can be easily accessed via a desktop computer/laptop or mobile phone or directly from OKI's Smart MFPs via the user-friendly colour touch screen, opening up a huge range of additional functionality to help save time and money.
SENDYS Explorer and SENDYS Fleet Manager are available at no cost to OKI customers, while SENDYS Explorer Premium OCR and SENDYS Explorer Output Manager and add-ons Flex Connector and Flex Connector Plus, are optional extras available to OKI customers to purchase.
SENDYS Explorer General Features
OCR - Optical Character Recognition of scanned or uploaded files
Scan to me document repository
Remote access and management of documents
Document management of private and public files
The ability to print from cloud connectors by accessing files directly from the printer, PC or smart phone
Available at no additional cost to OKI Customers
SENDYS Explorer Fleet Manager is included at no additional cost to customers. Allows users to remotely view the real-time status of each printer and MFP in the fleet and to remotely manage firmware updates, including when they are scheduled to minimise any impact to the day-to-day business. As well as fleet management, this tool provides easier maintenance and increased cost-efficiency through reporting e.g. usage statistics and device alerts on a personalised dashboard.
Connectors
Cloud Connector allows users to send documents to a range of destinations including Dropbox, OneDrive, OneDrive for Business, Google Drive and Microsoft SharePoint.
Flex Connector provides options to scan, transfer and share documents to a range of destination types for fast document storage, retrieval and management improving staff productivity while increasing security. Documents can be configured to include input fields, folder creation and automatic file name generation. Also, allows customised workflow shortcuts accessible via an OKI smart MFP or smart phone.
Flex Connector Plus features all the benefits of Flex Connector with the addition of Zonal OCR which allows the extraction of data fields from documents as metadata which can be automatically imported to any third-party application for quick and secure document retrieval. Extracted data can be validated on OKI MFPs reducing the risk of errors.
Additional Software Options
SENDYS Explorer Premium OCR provides document digitisation with state of the art OCR technology powered by ABBYY®. This enables computer identification of letters and words in scanned documents, allowing users to edit, copy, analyse and extract content just as they would in a typical text document.
SENDYS Explorer Output Manager ensures print output is securely managed by giving the administrator control of users' printing, copying and scanning activities. Print jobs are protected through user authentication on OKI devices with users' network credentials, PIN numbers or proximity cards. Printed documents can also be retrieved from any Pull Print enabled device. Output management reporting gives businesses total visibility of print costs, allowing them to prevent wasteful behaviour and enforce policies such as restricted colour printing so only those who need to print in colour do, providing complete visibility and control of print costs.
"We're delighted to announce the launch of the powerful SENDYS Explorer software suite which is exclusive to OKI" said Steve Coombs, Solutions and MPS Product Manager, OKI Europe Ltd. "The inclusion of this multi-fleet software is compatible with all OKI's office printers and will be incredibly useful for our end customers, saving them time and money. From increased productivity to greater efficiency and improved security, the benefits are far-reaching."
"Customers will now be able to digitise, share and organise documents, streamline workflows, increase security and reduce waste. With over 6,000 installations on up to 30,000 devices, SENDYS Explorer has a proven track record of helping businesses across multiple industries achieve the best possible performance from their printing operations."
For further information, visit www.oki.com/eu
-End-
Notes to Editors:
About OKI Europe
OKI Europe Ltd is a division of OKI Data Corporation, a global business-to-business brand dedicated to creating cost effective, professional in-house printers, applications and services which are designed to increase the efficiency of today's and tomorrow's businesses.
The company is well-established as one of Europe's leading printer brands, in terms of value and units shipped. For over 60 years OKI Europe has been delivering advanced printing solutions worldwide, introducing ground-breaking technologies that support the needs of businesses large and small. Our pioneering development of digital LED printing technology has placed OKI at the forefront of the market in delivering high-definition, eco-friendly printing devices.
Since the acquisition of the globally-deployed wide format printer business of Seiko I Infotech Inc. a subsidiary of Seiko Instruments Inc. OKI distributes precision-engineered wide-format printing systems specifically for the sign, graphics, CAD and GIS markets that provide industry-leading productivity and image quality. With an EMEA wide network of authorised distributors and dealers OKI Europe Ltd provides complete printing solutions including wide format printers, inks, media, software, installation, support, knowledge and training.
In addition to a vast portfolio of award-winning printers and MFPs, OKI offers a range of services to help optimise print and document workflows. This, together with an integrated suite of software technologies and tools, can help businesses take control of their print and document costs in a secure environment, whether office based, mobile or in the cloud.
Today OKI Europe employs over 500 staff in 15 locations (sales offices and distribution sites) and is represented in 60 countries throughout the EMEA region.
OKI Data Corporation is a subsidiary of Tokyo-based Oki Electric Industry Co. Ltd., established in 1881 and Japan's first telecommunications manufacturer.
For further information visit www.oki.com/eu
OKI Europe Ltd: Pamela Ghosal: pr@okieurope.com +44 (0) 208 2192190
Whiteoaks: Zachary Hodges: zacharyh@whiteoaks.co.uk +44 (0) 1252 727313