Keypoint Intelligence awards OKI's ColorPainter M-64s wide-format inkjet printer in the CMYK category
Egham, 2nd November 2017 – OKI Europe's ColorPainter M-64s, a wide-format inkjet printer was awarded the Outstanding "Enhanced" CMYK Eco-solvent/Latex 54"/64" Printer Pick Award 2018 at The Print Show by Keypoint Intelligence's Buyers Lab (BLI)[1]. Competing against printers in Europe and the USA, the award is the result of months of hands-on evaluations performed by expert teams of analysts and lab technicians at BLI.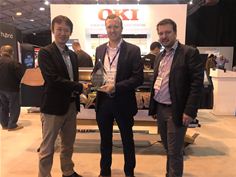 OKI Europe Awarded BLI 2018 Pick Award
"OKI's ColorPainter M-64s was the clear winner in the 'enhanced' CMYK category," said David Sweetnam, Director of BLI's Research and Lab Services. "With a strong performance across multiple categories, the device's CP Manager garnered special commendation for its comprehensive functionality and usability helping it achieve Five Star status for Device Management and Monitoring."
Since launching the Eco-Solvent/latex test program in 2016, BLI has tested a host of Latex 54"/64" devices in Europe and the United States, presenting their inaugural awards to the best performing products in four categories: Entry level CMYK Eco-solvent, Enhanced CMYK Eco-solvent, High Production CMYK Eco-solvent and Gamut Expansion Eco-solvent.
BLI applauded the ColorPainter M-64s for its productivity and exceptional dimensional stability in highly accurate multi-panel artwork. In addition to those advantages, it was also recognised as the only device to achieve excellent rating for the reproduction of the greyscale.
"We are delighted to receive the Outstanding "Enhanced" CMYK Eco-solvent/Latex 54"/64" Printer Pick Award," said Shu Watanabe, General Manager, Industry Print who received the award on behalf of OKI Europe. "The ColorPainter M-64s is a shining example of OKI's technological leadership and ability to develop innovative, high functioning and high-quality printing solutions in an evolving marketplace, delivering on the diverse requirements of the outdoor signage and indoor graphics industries."
The easy-to-use ColorPainter M-64s by OKI Europe has revolutionised the wide-format print market with innovative technology and features that drive efficient, high-quality and unmatched graphic output at unrivalled speeds. High-viscosity, low-odour, eco-solvent SX inks improve working environments, achieve a wide colour gamut and high-density colours resulting in superior, long-lasting print images with lower operating costs, making it ideal for a broad range of interior and exterior applications from vehicle wraps to backlit displays.
To find out more visit www.oki.com/eu
Glossary
[1] Keypoint Intelligence is built upon two brands: Buyers Lab (BLI) and InfoTrends. It is the integrated research company of InfoTrends conducting research activities on the digital imaging market globally and BLI evaluating printers, multifunction peripherals, scanners, and related software.
-End-
Notes to Editors:
About OKI Europe
OKI Europe Ltd is a division of OKI Data Corporation, a global business-to-business brand dedicated to creating cost effective, professional in-house printers, applications and services which are designed to increase the efficiency of today's and tomorrow's businesses.
The company is well-established as one of Europe's leading printer brands, in terms of value and units shipped. For over 60 years OKI Europe has been delivering advanced printing solutions worldwide, introducing ground-breaking technologies that support the needs of businesses large and small. Our pioneering development of digital LED printing technology has placed OKI at the forefront of the market in delivering high-definition, eco-friendly printing devices.
Since the acquisition of the globally-deployed wide format printer business of Seiko I Infotech Inc. a subsidiary of Seiko Instruments Inc. OKI distributes precision-engineered wide-format printing systems specifically for the sign, graphics, CAD and GIS markets that provide industry-leading productivity and image quality. With an EMEA wide network of authorised distributors and dealers OKI Europe Ltd provides complete printing solutions including wide format printers, inks, media, software, installation, support, knowledge and training.
In addition to a vast portfolio of award-winning printers and MFPs, OKI offers a range of services to help optimise print and document workflows. This, together with an integrated suite of software technologies and tools, can help businesses take control of their print and document costs in a secure environment, whether office based, mobile or in the cloud.
Today OKI Europe employs over 500 staff in 21 locations (sales offices and production sites) and is represented in 60 countries throughout the EMEA region.
OKI Data Corporation is a subsidiary of Tokyo-based Oki Electric Industry Co. Ltd., established in 1881 and Japan's first telecommunications manufacturer.
Visit www.oki.com/eu for further information.
OKI Europe Ltd: Pamela Ghosal: pr@okieurope.com + 44 (0) 208 2192190
Whiteoaks: Rebecca Bushnell: rebeccab@whiteoaks.co.uk +44 (0) 1252 727313