OKI Europe stand will shimmer with vibrant new neon colours at world's largest graphic and industrial print trade show
Egham, 26 May 2016 – OKI Europe Ltd will bring an explosion of colour to visitors at drupa 2016 when it showcases how its unique NeonColor toners allow creative businesses to bring their designs alive with dazzling, high-quality pigments.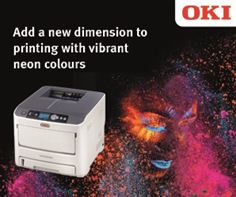 OKI Pro6410 NeonColor
"OKI Europe is proud to be such an innovator in this field, bringing super-bright neon printing of the highest quality within the reach of graphics businesses and departments," said Dave Willcox, Product Marketing Manager, OKI Europe. "Visitors to our stand will enjoy seeing how OKI's NeonColor printers make it easy to create spectacular effects on an incredible selection of materials, expanding the range of what is possible and opening up new revenue streams."
Held in Düsseldorf, Germany, from 31 May to 10 June, drupa 2016 is the world's largest show for the printing industry.
OKI's expert staff will be at the OKI Europe stand (Hall 5, Stand B21), using an eye-catching variety of sample products to demonstrate how the introduction of neon colour into OKI's standard and large format printing ranges now enables super-bright, radiant designs to be printed on almost anything.
The range of products transformed with designs using the new neon colours includes garments, large format banners, pop-up displays, indoor and outdoor signage and fashion accessories. Package-proofing, point-of-sale or educational materials can all be electrified with luminescent colour, thanks to the development of these highly innovative toners.
OKI's neon printing gives graphics studios and point-of-sale manufacturers the ability to produce visually-impactful new designs, breaking free of the standard CMY spectrum to enter a new realm of product specialisation.
Visitors to the OKI Europe stand will see how neon colours can produce sensational 3D effects on T-shirts or display materials and a dedicated dark room area will demonstrate how these pigments, which are unique to OKI, glow under black UV light, producing stunning results that include security marking applications with neon white.
OKI's new Pro6410 NeonColor printer will demonstrate its unique features that allow the creation of incandescent effects, using transfer media on either light or dark backgrounds for the full range of products. In addition, the large format inkjet ColorPainter W-64s printer will amaze visitors with its ability to produce, vibrant eye-catching designs using neon pinks and yellows perfectly suited to graphics and display materials for either indoor or outdoor use.
"We are excited to be showcasing our outstanding neon colour printers for such a wide and knowledgeable audience at drupa 2016," added Pamela Ghosal, General Manager, Brand and Marketing Communications, OKI Europe. "It is one of the world's leading trade exhibitions for the graphic and industrial print industries and our stand is going to be packed with new products, demonstrations and ideas."
Visit OKI Europe at drupa 2016 – Stand B21 in Hall 5.
For further information about OKI Europe visit www.okieurope.com.
-Ends-
About OKI Europe
OKI Europe Ltd is a division of OKI Data Corporation, a global business-to-business brand dedicated to creating cost effective, professional in-house printers, applications and services which are designed to increase the efficiency of today's and tomorrow's businesses.
The company is well-established as one of Europe's leading printer brands, in terms of value and units shipped. For over 60 years OKI Europe has been delivering advanced printing solutions worldwide, introducing ground-breaking technologies that support the needs of businesses large and small. Our pioneering development of digital LED printing technology has placed OKI at the forefront of the market, delivering high-definition, eco-friendly printing devices that include large-format multifunction printers for fast, high-quality results in reprographics, engineering, architecture, CAD and mapping applications.
OKI's unique strength in large format solutions also extends to inkjet printers that deliver a stunning quality of printing and design on an incredibly broad range of media for the signage and graphics industries.
In addition to a vast portfolio of award-winning printers and MFPs, OKI offers a range of services to help optimise print and document workflows. This, together with an integrated suite of software technologies and tools, can help businesses take control of their print and document costs in a secure environment, whether office based, mobile or in the cloud.
Today OKI Europe employs approximately 1,000 people in 21 locations (sales offices and production sites) and is represented in 60 countries throughout the EMEA region.
Visit www.okieurope.com for further information.
OKI Data Corporation is a subsidiary of Tokyo-based Oki Electric Industry Co. Ltd., established in 1881 and Japan's first telecommunications manufacturer.
Media Contacts:
OKI Europe Ltd: Pamela Ghosal: Pamela.Ghosal@okieurope.com, + 44 (0) 208 2192127
Whiteoaks: Jennifer Rook: jenniferr@whiteoaks.co.uk +44 (0) 1252 727313