Transforming the efficiency of in-house printing by offering fast, resilient wireless connectivity with the new, high-speed C332dnw and MC363dnw models
Egham, 4th April 2018 – Bringing new levels of efficiency to today's office environments, OKI Europe Ltd has added wireless connectivity to two of its most sought-after High Definition Colour, A4 printers – the C332dn and MC363dn.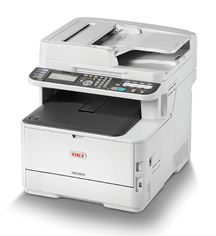 OKI MC363dn
The compact new C332dnw and MC363dnw come with wireless connectivity as standard, making high quality in-house printing of a huge range of materials, from A6 to 1.3m banners, even simpler and faster. Easy to set up, the new wireless printing capability is a further enhancement on the already advanced connectivity of these innovative LED devices, which are helping small businesses boost their brands and save on outsourcing costs.
The C332dnw brings professional quality HD colour printing to the desktop – producing letters, reports and striking customer facing documents. Like the MC363dnw, it already enables mobile printing from smartphones or tablets, being Google Cloud Print 2.0 ready, as well as being compatible with AirPrint by Apple Inc.
The superfast MC363dnw, meanwhile is an outstanding A4 colour multifunction printer packed with innovative functionality that saves time and budget and maximises productivity. High Definition Colour printing for professional, in-house documents is combined with duplex printing, scanning, copying and fax functions.
"We are committed to driving increased efficiency for customers through the power of our printing innovation," says, Anna Emilia Dorrington, Senior Product Marketing Manager, OKI Europe Ltd. "Wireless connectivity is now an important aspect of the office environment in dynamic businesses, which is why we have added this functionality in these hugely versatile and popular printers."
For further information, visit www.oki.com/eu
-End-
Notes to Editors:
About OKI Europe
OKI Europe Ltd is a division of OKI Data Corporation, a global business-to-business brand dedicated to creating cost effective, professional in-house printers, applications and services which are designed to increase the efficiency of today's and tomorrow's businesses.
The company is well-established as one of Europe's leading printer brands, in terms of value and units shipped. For over 60 years OKI Europe has been delivering advanced printing solutions worldwide, introducing ground-breaking technologies that support the needs of businesses large and small. Our pioneering development of digital LED printing technology has placed OKI at the forefront of the market in delivering high-definition, eco-friendly printing devices.
Since the acquisition of the globally-deployed wide format printer business of Seiko I Infotech Inc. a subsidiary of Seiko Instruments Inc. OKI distributes precision-engineered wide-format printing systems specifically for the sign, graphics, CAD and GIS markets that provide industry-leading productivity and image quality. With an EMEA wide network of authorised distributors and dealers OKI Europe Ltd provides complete printing solutions including wide format printers, inks, media, software, installation, support, knowledge and training.
In addition to a vast portfolio of award-winning printers and MFPs, OKI offers a range of services to help optimise print and document workflows. This, together with an integrated suite of software technologies and tools, can help businesses take control of their print and document costs in a secure environment, whether office based, mobile or in the cloud.
Today OKI Europe employs over 500 staff in 21 locations (sales offices and production sites) and is represented in 60 countries throughout the EMEA region.
OKI Data Corporation is a subsidiary of Tokyo-based Oki Electric Industry Co. Ltd., established in 1881 and Japan's first telecommunications manufacturer.
Visit www.oki.com/eu for further information.
OKI Europe Ltd: Pamela Ghosal: pr@okieurope.com + 44 (0) 208 2192190
Whiteoaks: Rebecca Bushnell: rebeccab@whiteoaks.co.uk +44 (0) 1252 727313