Over 14,000 free-to-access media profiles are now available for OKI ColorPainter users, saving them time and costs, while optimising the match between printer and material
Egham, 21 November 2018 - OKI Europe has launched a dedicated database for ColorPainter users with over 14,000 media profiles, giving registered users fast, free access to accurate media and colour management settings and unlocking new revenue opportunities for graphic arts businesses and creative organisations.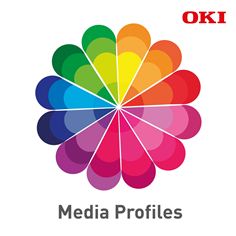 Media Profiles
Developed by OKI in conjunction with leading media brands, registered ColorPainter users can download unlimited profiles from the platform, significantly cutting time and costs for dealers, distributors and business users by removing the need to create new, bespoke profiles. In addition to the current ColorPainter portfolio, media profiles are also available for older devices and different RIP software, including ONYX and Caldera.
Once registered, users can create a dedicated account where they can access and manage the download queue for selected media profiles and view a history of downloads for repeat tasks. An easy-to-use search function makes it simple to navigate the extensive platform and find the right media profile for the task.
Building on the 14,000+ media profiles already in the database, the free resource will continue to be updated with new profiles that incorporate different media types, enabling users to generate the best quality output as well as minimising the risk of false prints.
Renowned for its media flexibility, OKI's wide format ColorPainter portfolio delivers high quality creative printing that meets the diverse requirements of the outdoor signage and indoor graphics industries, combining fast print speeds with superior image quality.
The award winning ColorPainter portfolio includes the fast, high-volume professional graphics ColorPainter H3-104s, the versatile, high-density and high durability ColorPainter M-64s and the newest device in the series, the ColorPainter E-64s, providing premium performance, high levels of precision and amazing ease-of-use, while fully supporting entry-level, environmentally-friendly printing.
Fully-equipped for indoor and outdoor media use, the ColorPainter portfolio is specifically designed to overcome common environmental, quality and media flexibility barriers, enabling businesses to create a wide range of products including billboard banners and posters, technical textiles, vehicle and building wraps, backlit signage and floor graphics. Furthermore, they can create many interior decoration applications like wallpaper, oil-paint replicas, real photo reprints, window shades, and a lot more.
"The launch of this vast database for our professional ColorPainter Series will undoubtedly open the door to exciting new revenue opportunities," says Frank Jänschke, Senior Marketing Manager, Wide Format Printers, OKI Europe Ltd.
"Businesses using ColorPainter printers already benefit from their incredible versatility for indoor and outdoor media. By enabling them to choose from a vast range of tried-and-tested media profiles via our dedicated Media Profiles platform, we have eliminated the significant time and cost involved in creating new profiles, paving the way for customers to achieve better results and create more profitable applications."
To register for a free Media Profiles account, visit https://www.oki.com/eu/printing/products/largeformat/graphics/media-profile/ and follow the instructions. For more information on the OKI large format ColorPainter portfolio, visit www.oki.com/eu.
-End-
Notes to Editors:
About OKI Europe
OKI Europe Ltd is a division of OKI Data Corporation, a global business-to-business brand dedicated to creating cost effective, professional in-house printers, applications and services which are designed to increase the efficiency of today's and tomorrow's businesses.
The company is well-established as one of Europe's leading printer brands, in terms of value and units shipped. For over 60 years OKI Europe has been delivering advanced printing solutions worldwide, introducing ground-breaking technologies that support the needs of businesses large and small. Our pioneering development of digital LED printing technology has placed OKI at the forefront of the market in delivering high-definition, eco-friendly printing devices.
Since the acquisition of the globally-deployed wide format printer business of Seiko I Infotech Inc. a subsidiary of Seiko Instruments Inc. OKI distributes precision-engineered wide-format printing systems specifically for the sign, graphics, CAD and GIS markets that provide industry-leading productivity and image quality. With an EMEA wide network of authorised distributors and dealers OKI Europe Ltd provides complete printing solutions including wide format printers, inks, media, software, installation, support, knowledge and training.
In addition to a vast portfolio of award-winning printers and MFPs, OKI offers a range of services to help optimise print and document workflows. This, together with an integrated suite of software technologies and tools, can help businesses take control of their print and document costs in a secure environment, whether office based, mobile or in the cloud.
Today OKI Europe employs over 500 staff in 15 locations (sales offices and production sites) and is represented in 60 countries throughout the EMEA region.
OKI Data Corporation is a subsidiary of Tokyo-based Oki Electric Industry Co. Ltd., established in 1881 and Japan's first telecommunications manufacturer.
Visit www.oki.com/eu for further information.
OKI Europe Ltd: Pamela Ghosal: pr@okieurope.com + 44 (0) 208 2192190
Whiteoaks: Rebecca Bushnell: rebeccab@whiteoaks.co.uk +44 (0) 1252 727313
-End-