The OKI Pro Series Label Printer will enable cost effective in-house short to medium-run label production
Egham, 24th September 2018 - OKI Europe is expanding into the label printer market with the launch of two new label printers, the Pro Series 1040 and 1050, to the ever expanding OKI Europe portfolio.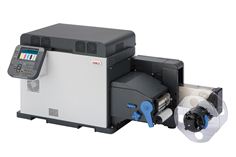 OKI Pro1050 Label Printer
Focusing on the growth of evolving markets, the Pro1040 and Pro1050 represent OKI's new innovation in label printing technology and will help businesses bring greater attention to their products through the quick, easy and cost-effective creation of eye-catching labels.
Both Pro Series label printers are expected to bolster OKI's strong foothold in the printing and packaging industries across EMEA. The Pro1040 and Pro1050 narrow-format label printers have been developed specifically for the growing market of users who need on-demand label printing that is easy to set-up and requires minimal training to use.
Intended for in-house use, the Pro1040 and Pro1050 will bring greater print freedom to customers, providing full control over the label printing process which is typically outsourced. Users will benefit from a wider choice of label designs with a lower print-volume/high SKU mix, reduced pre-printed label stock and reduced wastage. The ability to print in-house will also remove the necessity to wait for consignments of externally printed labels to arrive.
Users of both printers can now take their label designs to new levels of creativity and flexibility with the ability to print on a wide range of materials in professional four or five-colour finishes.
The Pro1040 prints in CMYK, whilst the Pro1050 prints in CMYK plus White (CMYK+W). With the White toner, users have the added advantage of printing on transparent or coloured label media – this is done by printing an opaque white background under the CMYK image, making the printed results even more eye-catching.
With unrivalled media handling capability, the Pro1040 and Pro1050 can print on a wide range of media, from textured papers to synthetics, with white, clear, opaque or coloured substrates. Unlike inkjet printers, the Pro Series Label Printers handle new types of materials with ease, allowing businesses to explore more creative ideas and complex job-types.
Ideal for industrial chemical labelling, asset tracking labels, outdoor-use labels, freezer and cold-storage labels, or labels for packaging, beverages and household goods, the Pro1040 and Pro1050 can produce waterproof labels that have been tested to survive underwater and are robust enough to resist UV fading.
The Pro Series Label Printers signify excellent value for business owners thanks to their high efficiency and low capital outlay for label production. Users can set up jobs within a matter of minutes thanks to flexible configuration. Business owners and print-service-providers (PSPs) will benefit from on-demand, short-run, colour label printing capability, increasing appeal to new customers and enabling print businesses to profit from lucrative new revenue streams.
"The launch of the Pro Series Label Printers represents an exciting step change in label printing," says Dennie Kawahara, Managing Director of OKI Europe. "This development in print technology incorporates diverse media capability, creative and flexible design and cutting-edge LED colour technology. The Pro1040 and Pro1050 are highly versatile devices that will create a wide impact across various industries, whether used in-house or by print businesses to increase print for profit."
The devices will be available to view and order at the following events:
Viscom (Milan - Italy) 18 - 20 October 2018
Label & Print (Madrid, Spain) 12 - 13 November 2018
All4Pack (Paris, France) 26 - 29 November 2018
C!Print (Lyon, France) 5 - 7 February 2019
Notes to Editors:
Pro1040 & Pro1050 Printer Specifications[1]
Colour Options Pro1040 (CMYK) & Pro1050 (CMYK + W)
Media Type[2] Plain Paper Label, ¬ Glossy Paper Label, Synthetic Film Label
Media Width Roll Paper: 25.4mm (1.0") - 130mm (5.1") including liner
Media Thickness 0.076 - 0.250mm
Label Length 12.7mm (0.5") - 1320.8mm (52")
Roll Wind Direction Face-out, Face-in
Print Speed Max. 152.4mm/s (6ips)
Memory (Std./Max) 2,000 MB / 2,000 MB
Hard Disk Drive 250 GB
Auto Cutter Rotary blade full cut
Dimensions (WxDxH) 1,040x477x441 (printer with unwinder)
Weight (includes supplies) Approx. 62.0 kg (printer 43kg, unwinder 19kg)
[1]Specification subject to change without notice. All trademarks acknowledged.
[2]Media list available (all media should be pre-tested before ordering in quantity).
-End-
About OKI Europe
OKI Europe Ltd is a division of OKI Data Corporation, a global business-to-business brand dedicated to creating cost effective, professional in-house printers, applications and services which are designed to increase the efficiency of today's and tomorrow's businesses.
The company is well-established as one of Europe's leading printer brands, in terms of value and units shipped. For over 60 years OKI Europe has been delivering advanced printing solutions worldwide, introducing ground-breaking technologies that support the needs of businesses large and small. Our pioneering development of digital LED printing technology has placed OKI at the forefront of the market in delivering high-definition, eco-friendly printing devices.
Since the acquisition of the globally-deployed wide format printer business of Seiko I Infotech Inc. a subsidiary of Seiko Instruments Inc. OKI distributes precision-engineered wide-format printing systems specifically for the sign, graphics, CAD and GIS markets that provide industry-leading productivity and image quality. With an EMEA wide network of authorised distributors and dealers OKI Europe Ltd provides complete printing solutions including wide format printers, inks, media, software, installation, support, knowledge and training.
In addition to a vast portfolio of award-winning printers and MFPs, OKI offers a range of services to help optimise print and document workflows. This, together with an integrated suite of software technologies and tools, can help businesses take control of their print and document costs in a secure environment, whether office based, mobile or in the cloud.
Today OKI Europe employs over 500 staff in 15 locations (sales offices and production sites) and is represented in 60 countries throughout the EMEA region.
OKI Data Corporation is a subsidiary of Tokyo-based Oki Electric Industry Co. Ltd., established in 1881 and Japan's first telecommunications manufacturer.
Visit www.oki.com/eu for further information.
OKI Europe Ltd: Pamela Ghosal: pr@okieurope.com + 44 (0) 208 2192190
Whiteoaks: Rebecca Bushnell: rebeccab@whiteoaks.co.uk +44 (0) 1252 727313