The leading manufacturer of printers and printing solutions will showcase its portfolio of Print for Profit printers as Gold Sponsors of FESPA 2018, 15-18th May
Egham, 9th May 2018 – OKI Europe Ltd announced that it will be placing a key focus on the benefits of Speciality Colour printing at FESPA 2018 where it will be participating as a Gold Level sponsor for the major industry event.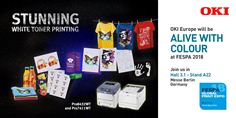 OKI ProSeries White Toner
Exhibiting at stand 3.1 - A22, OKI Europe will be demonstrating how its unique Pro Series printers enable print businesses to reach new heights of creativity by producing vibrant, eye-catching colour that goes beyond CMYK, expanding the range of services print for profit businesses can offer and attracting new customers. OKI's portfolio of market changing Pro Series printers includes the award winning White Toner printers, 5-colour printers and the dazzling Neon Toner printer.
Since its inception, OKI's Pro Series portfolio has provided print for profit businesses of all sizes with the flexibility to print vibrant full-colours even printing in white on an unrivalled range of media including coloured paper, clear film and transfer media. These can be used to create and print graphics for use on almost any material including fabric, ceramics, wood, metal, glass and more. This is of interest as a cost-effective alternative to Direct-to-Garment (DTG) printing as it allows printing with low set up costs and fast return on investment and is an infinitely more flexible solution supporting fabric to man-made synthetics. It opens the door to personalisation of a wide range of products with a minimum volume of 1 without the costly set-up fees or lengthy timescales of traditional print processes. And the ability to print white on colours significantly opens up the creative potential for the print for profit market.
"It is with great excitement that we announce the continuation of our annual FESPA attendance as a Gold Partner. 2018's event will see OKI Europe ALIVE WITH COLOUR as we demonstrate our unique and award winning Pro Series product range designed to provide fresh inspiration and enable print businesses of all types to access new revenue opportunities," says Pamela Ghosal, General Manager, Marketing Communications, OKI Europe Ltd.
OKI Europe's full range of innovative printing solutions from labels to billboards will also be on display at the stand enabling businesses of all sizes to experience and learn how they can access new customers and additional new revenue streams.
For further information, visit www.okieurope.com/events
-End-
Notes to Editors:
About OKI Europe
OKI Europe Ltd is a division of OKI Data Corporation, a global business-to-business brand dedicated to creating cost effective, professional in-house printers, applications and services which are designed to increase the efficiency of today's and tomorrow's businesses.
The company is well-established as one of Europe's leading printer brands, in terms of value and units shipped. For over 60 years OKI Europe has been delivering advanced printing solutions worldwide, introducing ground-breaking technologies that support the needs of businesses large and small. Our pioneering development of digital LED printing technology has placed OKI at the forefront of the market in delivering high-definition, eco-friendly printing devices.
Since the acquisition of the globally-deployed wide format printer business of Seiko I Infotech Inc. a subsidiary of Seiko Instruments Inc. OKI distributes precision-engineered wide-format printing systems specifically for the sign, graphics, CAD and GIS markets that provide industry-leading productivity and image quality. With an EMEA wide network of authorised distributors and dealers OKI Europe Ltd provides complete printing solutions including wide format printers, inks, media, software, installation, support, knowledge and training.
In addition to a vast portfolio of award-winning printers and MFPs, OKI offers a range of services to help optimise print and document workflows. This, together with an integrated suite of software technologies and tools, can help businesses take control of their print and document costs in a secure environment, whether office based, mobile or in the cloud.
Today OKI Europe employs over 500 staff in 21 locations (sales offices and production sites) and is represented in 60 countries throughout the EMEA region.
OKI Data Corporation is a subsidiary of Tokyo-based Oki Electric Industry Co. Ltd., established in 1881 and Japan's first telecommunications manufacturer.
For further information visit www.oki.com/eu
OKI Europe Ltd: Pamela Ghosal: pr@okieurope.com + 44 (0) 208 2192190
Whiteoaks: Rebecca Bushnell: rebeccab@whiteoaks.co.uk +44 (0) 1252 727313